Rare 'holy water' draws thousands to Ethiopian Church in KY
Updated: Sep. 24, 2018 at 10:47 PM EDT
LOUISVILLE, KY (WAVE) - Standing along Goldsmith Lane near Bardstown Road in Louisville, KY, one typically hears the swish of cars.
But, for those who stop and listen a little closer, they may hear the faint noise of singing and drums.
Tucked away from the road is the Ethiopian Orthodox Tewahedo Church.
In the parking lot of the church are license plates from all over -- Colorado, Texas, Maryland, even Ontario. The immediate question is usually, "What are they doing in Louisville?"
"I needed that resurrection to say, right? That spiritual strength," Aron Tesfasilassie said.
His response is a totally standard reason to go to church. What's not, is Tesfasilassie's commute.
He traveled from California to attend the church after seeing a Youtube video of their holy water service.
"I was really, really shocked when I saw that because who believes in America that there's holy water place," Tesfasilassie said.
"We have like a little bit of Ethiopia in our own city," Bemnet Melaku said.
Typically, holy water is found in Ethiopia. Those who believe say it's very powerful.
"Anyone who is sick spiritually or physically can go to the church and get the holy water service and is healed," Father Fikieyesus Desta said.
Desta founded the church in 2008. The Ethiopian Arch Bishop traveled to Louisville to bless their water, now housed in a unit outside.
People are rinsed in the water, even drink it, and leave cured of all physical ailments, so they say.
"Once it got famous, more people would-- with more serious illnesses-- would come," Sarah Korssa said. "It just took off, from people like say who couldn't see to being able to see, to people who had cancer."
Yetmwork Adnew traveled to the church from Virginia.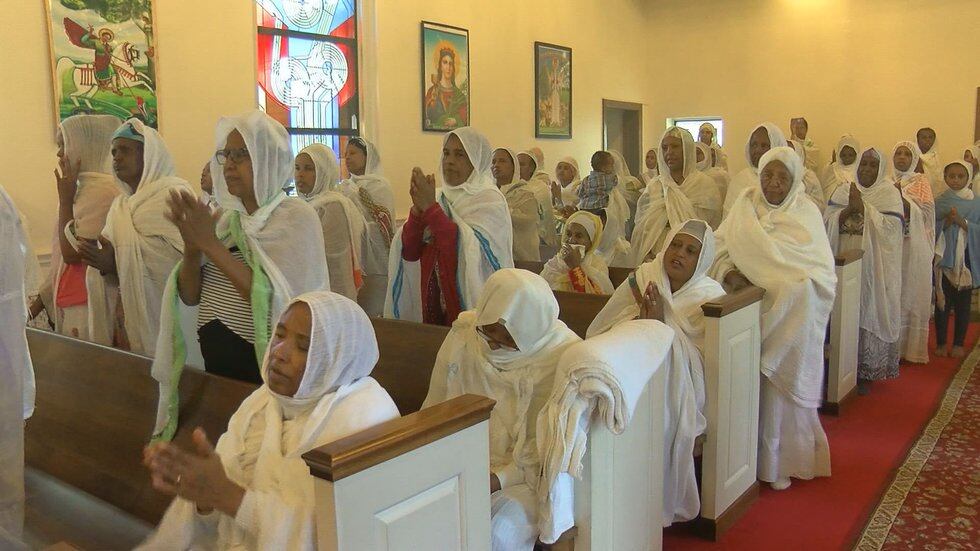 "I used to have really bad migraines," Adnew said. "I don't have it anymore."
Fasil Gebrehiwot traveled from Toronto and saw major results after drinking the water.
"After two weeks I stopped the wheelchair to walk by myself," Gebrehiwot said.
Gebrehiwot suffers from Parkinsons.
At this point, naturally many people would be skeptical. There's a catch for the water to work.
"It's a church and it's God," Adnew said. "You have to believe in God."
It appears the church has lots of believers. The log shows in the last six months more than 700 families, not counting individuals, have traveled to the church to reap the benefits of their round-the-clock prayer services and holy water.
They stay on the property in tents.
"Just like the life of the church apostles, the early church fathers," Tesfasilassie said. "They shared everything. They ate together, they pray together. They did everything together."
Worshipers said that's what the experience is about. The water is just an added bonus.
"This is about God," Father Desta said. "It's not about the people. It's not about some special water, the holy water. I would say come and see."
Copyright 2018 WAVE 3 News. All rights reserved.