Christi Mack: One-On-One with UofL basketball coach's wife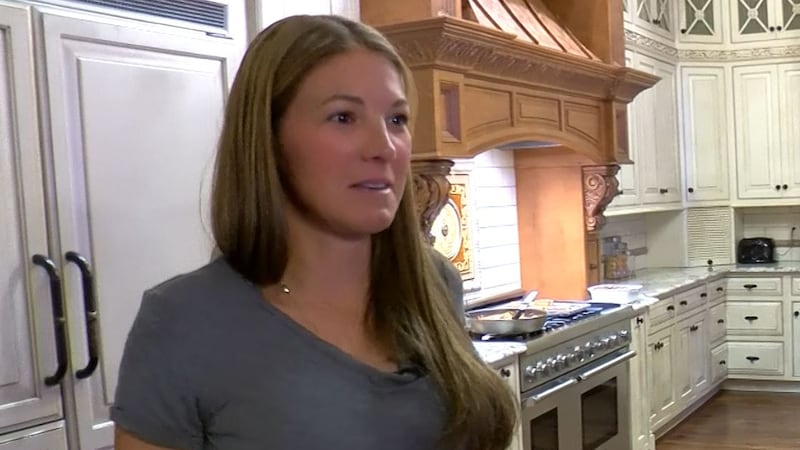 Updated: Oct. 3, 2018 at 12:55 AM EDT
LOUISVILLE, KY (WAVE) - UofL basketball coach Chris Mack has already demonstrated tremendous skills at recruiting.
One of his secret weapons might be his own family.
His wife, Christi Mack, said she likes to invite players and their families into their Prospect home.
"Ultimately we want to win basketball games, but it is about the experience of it," she told WAVE 3 News in an interview at the Macks' house. "We're trying to raise really good young men, and I want the parents to feel comfortable knowing that."
Christi Mack was serving up dinner for their three children, 13-year-old Lainee, 12-year-old Hailee and 3-year old Brayden when the WAVE 3 News crew arrived. Dad had a work event so he couldn't be there.
Christi said she cooks at home most nights, making simple dishes. Monday night, it was pasta with rotisserie chicken, which they all ate after first saying a prayer.
Christi grew up in Louisville, a star basketball player for Holy Cross High School, and a huge Cards fan. She said she loved legendary coach Denny Crum.
Now she's married to the head basketball coach, but their first date almost didn't happen. She met Mack through a fellow basketball player, and he asked her out after meeting her again after she graduated.
"I said no," she recalled with a laugh. "In my mind, that's Sarah's coach. He's got to be old. So I said no."
The age difference turned out to only be nine years. Christi was 23 years old and Chris was 32.
Three months later they were engaged. Her friend Sarah is now married to Kahil Fennell, Louisville's director of basketball operations.
The new gig brought the Macks from Xavier, and Chris' hometown of Cincinnati, to Louisvile and Christi's hometown.
Christi's older brother and his three children live in Louisville, as do her parents. Much of their time is spent with family, evident in the numerous photos throughout their spacious home.
One photo is of their favorite event with Chris' favorite singer -- Kid Rock.
"Kid Rock hosts this fish fry at Barbara Mandel's estate," Christi said. "This year they will be going with 16 of their friends."
Christi said when she was house hunting, she made sure to get something with space to entertain the tall basketball players they host.
"I want them to know they become brothers to my daughters," she said. "Sons to me. I want to assure those parents of those kids that those kids are going to become a part of my family."
Their children have grown up with basketball.
"They love what Dad does," Christi said. "They live and breathe it just like we do. And they have since they were born."
Their two oldest go on recruiting trips with Dad.
"We always take turns," Hailee Mack said. "And so it was my turn. My sister went to New York and Atlanta last time, so I got to go somewhere better, obviously."
She just returned from a recruiting trip to Ireland, where her father flew to meet with the mother of top recruit Aidan Igiehon. She said one of her favorite parts was the chocolate.
The Macks focus on keeping their children humble and learning about hard work. It was Chris' idea to come up with a weekly allowance chore sheet for their girls. Both Lainee and Hailee were excited to show their guests how it works.
When a chore is completed, they get the amount of money designated to that chore. Dad pays them on Sundays.
"We divide (the money) between three folders," Lainee said. "Save, spend, and give."
It's why the girls jumped in to clear the table and do the dishes after Monday's dinner.
But perhaps it could also be a bit of their mother who has rubbed off on them.
"I love to clean," Christi said. "It's like crazy. I'm OCD. I clean the house myself now, yeah ... but I love it. I love laundry, I love all that stuff. I have a little OCD."
Copyright 2018 WAVE 3 News. All rights reserved.