Peerless among the latest tapping into Henry County bourbon boom
Published: Oct. 3, 2018 at 8:44 PM EDT
HENRY COUNTY, KY (WAVE) - The Peerless Distilling Company can now be added to the list of distillers taking advantage of the untapped potential of Henry County, Kentucky.
WAVE 3 News has reported about Rabbit Hole, Angel's Envy and the Six Mile Creek Distillery moving business to the area. Peerless officially opened a rickhouse storage facility in the area Wednesday.
Judge Executive John Brent said a total of five distilleries have begun development, but this is the first rickhouse built in Henry County.
It's a location that's not quite the beach, but that's just why Corky Taylor is here.
"I tried to retire," Taylor, the Chairman and CEO of Peerless Distilling Company, said. "I walked on a beach in Sarasota, Florida for a year and a half - most depressed I've ever been in my life."
It was about a half a decade ago when Taylor decided to round up his son and revive his great grandfathers bourbon business into Peerless Distilling in Louisville.
"There was corn growing where I'm standing right now," Carson Taylor, Corky's son who helps lead the company, said, looking at the 19-acre Citation Lane property now home to the companies rickhouse.
While the mashbill may be set in stone for generations, a new ingredient is being added to the family recipe.
"The good fresh air of Henry County," a woman attending the event yelled out.
The Peerless rickhouse is the first-ever in the county, which can hold more than 5,000 barrels. The company also stores around 2,000 barrels at its primary Downtown Louisville location.
As employees raised a glass to mark the moment, they weren't the only ones celebrating.
"After doing some research, I thought, 'hey, it's like having a goldmine,'" Brent said.
Sort of like gold mines, Brent said he thinks he knows why.
"Location, location, location," Brent said.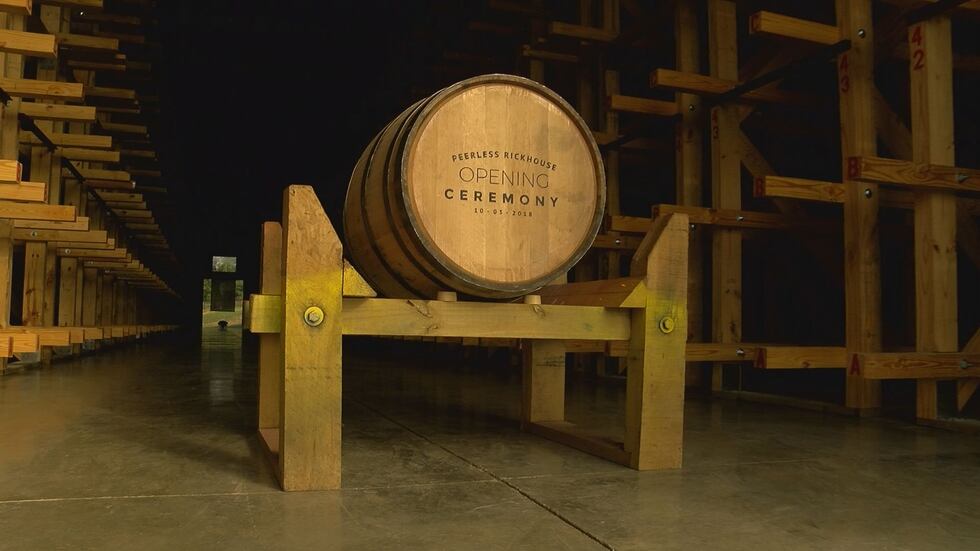 Brent said it's the perfect spot between Cincinnati and Louisville on I-71, adding that the landscape is beautiful.
"They've looked other places and said judge this is where we want to be can you help us," Brent said.
He said the new interest will create between 50 to 100 jobs and spur more than a million dollars of tax revenue every year. That will help fund schools, libraries and the county extension among other taxing districts.
Brent adds that the development could boost tourism.
He said, looking at production in the county right now, the next five to ten years are going to be pretty bright.
He's hoping to set up supplier relationships with local farmers, some who may be struggling after dairy contracts ended.
"Commodities are really having a tough time right now," Brent said.
But Wednesday all were celebrating, thinking about how long it will take to fill up the newly minted racks.
"It wont take long," Corky Taylor said.
Carson said a handful of single story rickhouses will be built on the property, which the property is perfect for. Carson added that the facility is 34 miles from the distillery.
Employees said they plan to begin putting barrels in place as soon as Wednesday.
Corky said it's a way for the company to control its destiny as the bourbon boom plays out.
"I have to have a purpose in life," Corky said.
Purpose that now has a Henry County address.
Copyright 2018 WAVE 3 News. All rights reserved.