2 killed in Kroger shooting in Kentucky; store to remain closed Thursday
2 shot dead at busy grocery store; suspect taken into custody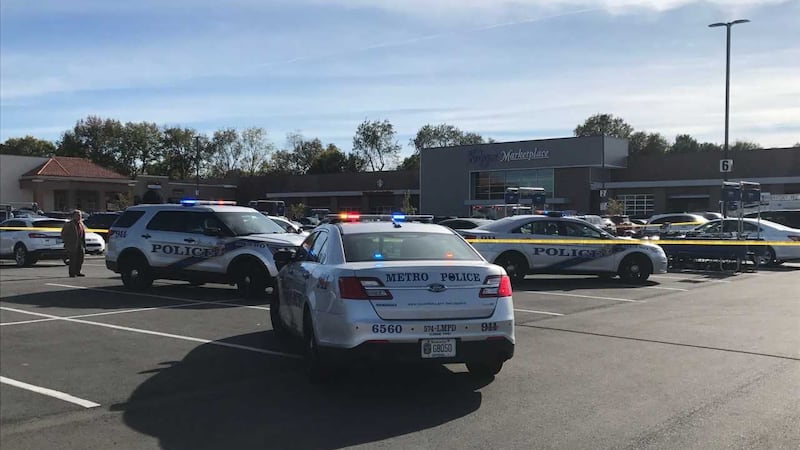 Updated: Oct. 25, 2018 at 2:55 AM EDT
JEFFERSONTOWN, KY (WAVE) - The calm of a sunny Wednesday afternoon in Louisville's quiet east end was turned upside down when two people were shot dead at a popular suburban grocery store.
Jeffersontown Police Chief Sam Rogers said late Wednesday afternoon that a man walked into the busy Kroger location at 9080 Taylorsville Road, near the corner of Hurstbourne Parkway, and fired multiple shots at a man.
The shooter then walked outside and fired more shots at a woman. Both of those victims died at the scene, Rogers said.
Moments after the killer shot the woman in the parking lot, the suspect then encountered another man who had a gun. They fired shots at each other but missed. One witness told WAVE 3 News that the shooter at one point said "whites don't kill whites."
Multiple sources have confirmed to WAVE 3 News that both victims were black. They have not been officially identified.
An employee of Securitas who said he had some EMT training told WAVE 3 News' David Mattingly that he tried to help one of the victims, but it was too late.
"There was nothing I could do," he said.
Another witness outside the store amid all the chaos said he was fearful that one of the victims might have been his mother. At about 7:30 p.m., WAVE 3 News reporter Maira Ansari confirmed the tragic news.
Other than the two fatalities, no further injuries were reported.
The FBI provided the following statement on Wednesday night:
"FBI Louisville is currently assisting the Jeffersontown Police Department in the ongoing investigation into the shooting at a local Jeffersontown Kroger. FBI Louisville is evaluating the evidence to determine if there were any violations of federal law."
The suspect spent hours at the Jeffersontown Police Department after his arrest. Around 12:15 a.m. Thursday, he was escorted out to be taken to jail in downtown Louisville, at LMDC. (Watch video in the player above)
Gregory Alan Bush, a white man who is 51-years-old, is charged with two counts of murder and 10 counts of felony wanton endangerment.
Bush is now in custody at LMDC. He will be in court on Friday morning.
WAVE 3 News obtained a cellphone video clip of the shooter running around the parking lot, and driving off in a vehicle with an officer chasing the vehicle on foot. Another cellphone video showed what appeared to be the moment police apprehended the suspect. (Watch those videos in the player above)
Multiple witnesses told Mattingly they heard two bursts of gunfire inside the store before they saw two men exchanging gunfire in the parking lot moments later.
Mattingly reported that the scene appeared to be secure at about 3:50 p.m., nearly an hour after the shootings took place.
The suspect's name was not immediately available, nor was his motive.
Kroger will remain closed until 7 a.m. Friday, Jeffersontown police said. Patrons can now pick up their abandoned vehicles.
Louisville Mayor Greg Fischer and Rep. John Yarmuth both posted their thoughts about the tragedy on Twitter:
(Story continues below the tweets)
Kroger also issued a statement on Twitter:
---
Below are two Facebook Live videos from WAVE 3 News' Facebook page Wednesday:
Copyright 2018 WAVE 3 News. All rights reserved.