Lawsuit alleges sexual abuse of workers, patients at Pewee Valley nursing home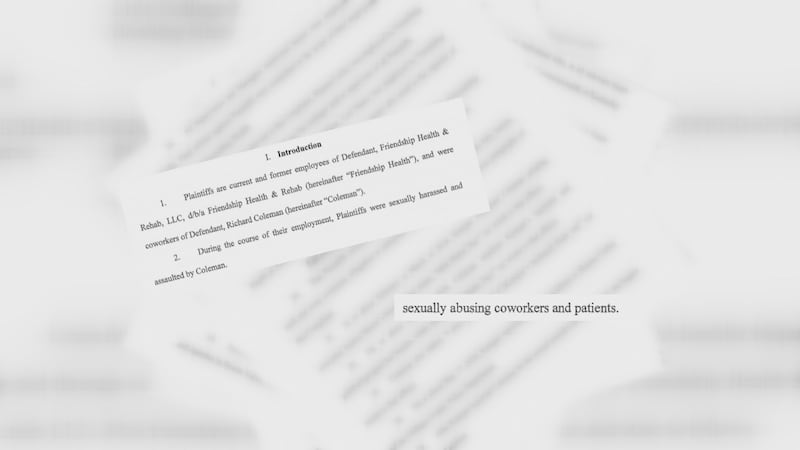 Updated: Dec. 14, 2018 at 7:26 PM EST
LOUISVILLE, KY (WAVE) - Four woman have come forward with disturbing allegations that a Pewee Valley nursing home worker sexually abused them.
They've filed a lawsuit against Friendship Health and Rehab, which they claim enabled an employee who was sexually abusing co-workers and patients.
Their lawyer said more allegations are expected to surface.
The civil complaint states a man named Richard Coleman was behind sexual assaults that took place over the past several years.
"In a couple of situations he had cornered young girls in rooms and not allowed them to leave," attorney John Phillips said. "[He] Groped their breasts and made comments to them like 'It's Milkshake Day.'"
Phillips said that two of those filing the lawsuit were still in high school at the time of the alleged abuses, just 17-years-old.
The lawsuit states Coleman gained the trust of one of the minors by "buying her food and candy", but that eventually lead to unwanted sexual comments like him saying "wait until you're 18". Later, the suit states, Coleman physically forced himself on her.
"They're mentally scarred as a result of it," Phillips said.
Louisville Lawyer John Phillips is representing the victims. He said Coleman was indicted on four related counts of sex abuse this November, and has since been terminated from his job.
Phillips said that there is evidence that Coleman also assaulted residents at the facility.
The civil complaint states Coleman would also make comments "about having sex with infants and the elderly".
Phillips said Coleman's actions were reported to administrators who, as laid out in the complaint, "enabled" him and "retaliated" against accusers.
"The women knew that complaints didn't do any good and many of them were terrified to go to work," Phillips said.
Phillips added that he hopes more women will come forward about the alleged abuses, and said a number of people have already.
"The point of the lawsuit is, one, to give these women a voice and give them an opportunity to have their story heard, and for them to experience some justice," Phillips said.
An attorney representing Friendship Health and Rehab released the following statement:
"Friendship Health and Rehab takes great pride in serving the community as a corporate resident of Oldham County, and it is fully committed to the health, welfare and safety of its residents and employees. Friendship respectfully declines to comment in any fashion concerning ongoing litigation and looks forward to continuing its mission to serve and enrich the quality of life of all its residents and employees."
Copyright 2018 WAVE 3 News. All rights reserved.