Six barges carrying coal have sunk into the Ohio River
The sunken barges are spilling tons of coal into the water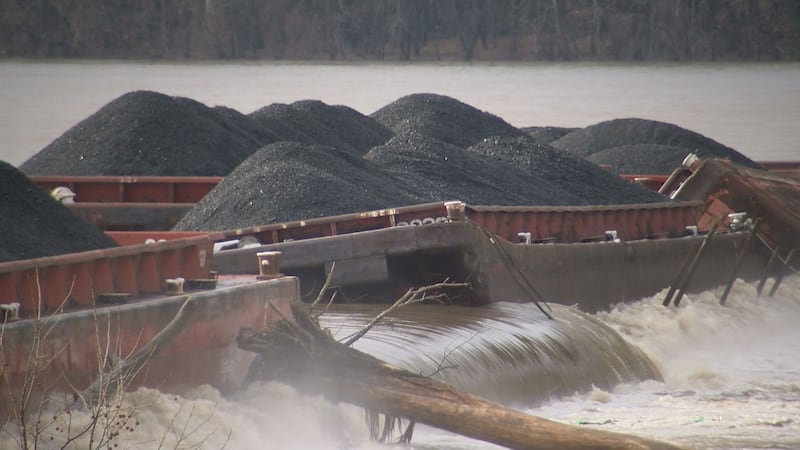 Updated: Dec. 31, 2018 at 10:09 AM EST
LOUISVILLE, KY (WAVE) - Two more barges have sunk into the Ohio River, spilling tons of coal into the water after a towboat hit the Second Street Bridge Tuesday. That makes six of 15 barges loaded with coal that have now sunk into the river.
A towboat was pushing 15 coal barges when it struck the Second Street (Clark Memorial) Bridge on Christmas.
The Coast Guard said that the water at the McAlpine Dam fell about one foot on Friday evening, causing two more barges to sink and another to shift.
Three barges are still stuck on the dam at the Falls for the Ohio. One of those is stuck in one of the gates of the dam. Six other barges have been recovered.
"Currently one of the barges is capsized over the dam and it's preventing one of the gates from closing," U.S. Coast Guard Lt. Commander Michael Metz said. "Obviously it's a very very large concern, but the Coast Guard, along with the responsible party and the Army Corps of Engineers are working tirelessly to safely remove that barge."
The Coast Guard said water at the dam fell by one foot on Friday, causing recovery efforts to be put on hold.
They are working with the Army Corps of Engineers to retrieve the barges one by one, and plan to stage heavy-duty salvage equipment.
Employees are working around the clock to clean up those barges, but they aren't being paid because of the federal government shutdown.
On Friday, Metz said "time was of the essence" for recovery and cleanup efforts.
The Coast Guard and Army Corps of Engineers have faced rough water conditions when trying to recover the barges and contain coal spillage. The four barges which sunk into the river Friday spilled up to 1800 tons of coal into the river.
The cause of the incident is still under investigation.
Copyright 2018 WAVE 3 News. All rights reserved.