New video shows more of incident involving Kentucky high school students at Indigenous Peoples March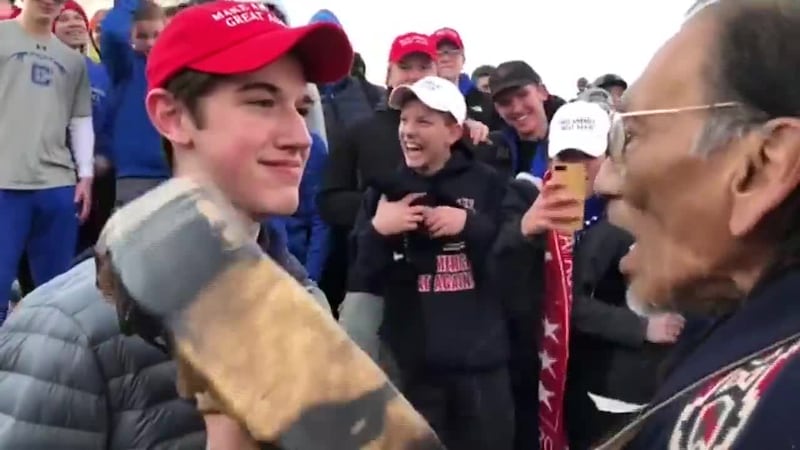 Updated: Jan. 21, 2019 at 7:16 AM EST
WASHINGTON, D.C. (FOX19) - Covington Catholic High School is trending on social media after multiple videos surfaced on Saturday reportedly showing an incident between a group of young men from the school and indigenous marchers in Washington, D.C.
Videos show participants in the Indigenous Peoples March, one man playing a drum, surrounded by young men in "Make America Great Again" hats and Covington Catholic clothing. A few people are also wearing Cincinnati Bengals clothing.
The group of young men are yelling and jumping, as the indigenous men begin to play music and drum in the Indigenous Peoples March.
In one video, a man in "Make America Great Again" hat is seen standing extremely close to and smiling in the face of a man who is playing a drum.
According to Indian Country Today, the drummer is Omaha elder, Nathan Phillips.
"We are just now learning about this incident and regret it took place," Laura Keener, the communications director of the Roman Catholic Diocese of Covington, said at 12:15 p.m. on Saturday. "We are looking into it."
"We condemn the actions of the Covington Catholic High School students towards Nathan Phillips specifically, and Native Americans in general, Jan. 18, after the March for Life, in Washington, D.C. We extend our deepest apologies to Mr. Phillips. This behavior is opposed to the Church's teachings on the dignity and respect of the human person. The matter is being investigated and we will take appropriate action, up to and including expulsion. We know this incident also has tainted the entire witness of the March for Life and express our most sincere apologies to all those who attended the March and all those who support the pro-life movement," Keener said in email around 4 p.m. on Saturday from the Diocese and Covington Catholic High School.
A Covington Catholic student who says he was at the march contacted FOX19Now and said the group was doing some cheers to pass the time while waiting for a bus and reports the group of indigenous people forced their way into the middle of their cheers.
The email reads: "We initially thought this was a cultural display since he was beating along to our cheers and so we clapped to the beat."
The student asked not to be identified.
There is another angle of the video below sent to us by the student that apparently shows Phillips approaching the group.
Phillips told the Associated Press that says he felt compelled to get between a group of black religious activists and largely white students with his ceremonial drum to defuse a potentially dangerous situation.
And here is another longer version of that video from another angle. Please note there is strong language and profanity used.
According to the school's website, Covington Catholic students were in Washington for the March for Life, an annual anti-abortion rally that was the same day as the Indigenous Peoples March.
"The actions of these students illustrate the fact and the hypocrisy of days past, is still very much present today," said Guy Jones, Hunkpapa Lakota and member of the Standing Rock Sioux Tribe, who was part of the coalition that changed Cincinnati's Columbus Day to Indigenous Peoples Day.
Jheri Neri, Native Activist with the Greater Cincinnati Native American Coalition said. "We really have to address white supremacy and white privilege. For youth to think its okay to address an elder in this way is disrespectful and dishonorable. We need parents, teachers, coaches and community leaders to be having conversations with these kids about how to show up in the world."
Kentucky Secretary of State Alison Lundergan Grimes posted about the videos on Facebook, "In spite of these horrific scenes, I refuse to shame these children. Instead I turn to the adults that are teaching them and those that are silently letting others promote this behavior," Lundergan Grimes posted on Facebook. "We can do better and it starts with better leadership."
Since these videos have posted online, Covington Catholic's Twitter, Facebook, and Instagram accounts have made private.
Covington Catholic has not responded to requests for an interview.
Covington Catholic is a private, all-male high school located in Park Hills, Kentucky.
Copyright 2019 WXIX. All rights reserved.