'Worthless': Commowealth's Attorney rips Kentucky's hate-crime law
One lawmaker compares hate crimes to terrorism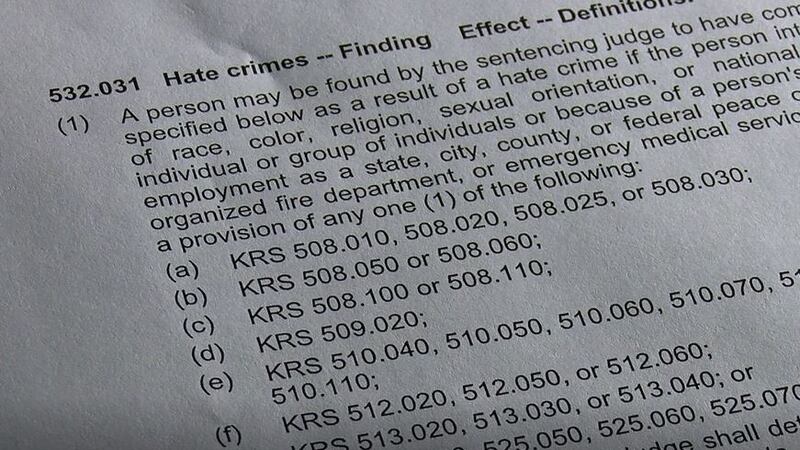 Updated: Feb. 6, 2019 at 12:25 AM EST
LOUISVILLE, KY (WAVE) - The law that's supposed to address hate crimes in Kentucky does almost nothing, a WAVE 3 News Troubleshooter investigation has found.
There are several local examples of hate crimes, where the actual motivation will go unpunished.
"I think with our current statute, although it's well-intentioned, it's totally worthless," Commonwealth's Attorney Tom Wine said.
In October 2018, two people were shot dead at a Kroger in Jeffersontown. Police said the shooter killed his victims because they were black.
When it came time to charge the suspect, officials came to a disappointing realization.
"We can't charge a hate crime because it's not even covered for a homicide," Wine said.
But WAVE 3 News found problems even beyond the law itself. For the crimes it does cover, the statute does not add a single extra penalty. In fact, the only thing it does is allow for parole to be denied. That's if a judge actually makes a notation in the file after a conviction, something Wine said he's personally never seen.
"It's pretty meaningless because most of the crimes are already individuals who are not eligible for release, who couldn't get shock probation, who had to serve at least 85 percent of their time, so simply calling it a hate crime added nothing to the nature of the offense that they committed," Wine said.
"I was not aware of that," said Raj Patel, the spokesperson for the Swaminarayan Temple, which was recently vandalized. "To me, it's a shock."
LMPD made an arrest in that case, charging a teen with what it could -- burglary and criminal mischief.
To Patel, the suspect vandalized every single member of his temple.
"You would think that we're in a better world, and we are, but every once in a while you have a bad apple that just rots and this is the outcome of it," he said.
So what is being done about it? Both parties have ideas.
Representatives Jason Nemes and Jerry Miller want something immediate. Their bill adds homicide to the list of charges to which the statute could be applied, but the rest remains the same with no added penalties.
"That's a heavier lift and it might take a little more education," Nemus told WAVE 3 News. "We can get there, and I think we should. But, at this point, our bill is just to fill the gap of the hate crime law."
Nemus compared hate crimes to terrorism, in that they affect more than just the one person targeted.
In the Senate, Gerald Neal has crafted a bill that would make a hate crime its own individual charge.
"I'm setting the bar, so to speak, and I'm saying, 'OK, let's talk," Neal said. His bill would add specific sentence terms to the crime.
In that case, Wine said, prosecutors would have one more thing to prove to a jury, versus a judge being able to add a stiffer sentence after a conviction.
"A jury may believe somebody killed a person, but not because of racial reasons, and we have a hung jury," Wine said.
As these bills and a couple of others are debated, Wine said he thinks one thing is certain -- for the sake of hate crime victims, Kentucky's hate crime law as it stands needs to go.
"If it were up to me, I'd tear it up and start all over," Wine said, adding that he'd like the law to work as an enhancement, resulting in more prison time.
The suspect in the Kroger shooting was charged with a federal hate crime. However, federal prosecutors are not always able to take on lesser cases involving hate, like vandalism.
Kentucky's 379 hate crimes reported to the FBI in 2017 was among the top 10 in the nation that year.
"I've studied the issue," Neal said. "I've experienced the issue. I know it when I see it."
But a look behind the statistics shining the state in a negative light, actually reveals something positive -- a more realistic look at hate in the state. That's because agencies in Kentucky actually do a decent job reporting hate crimes to the FBI compared to those in other states.
In fact, some states appear to have barely any hate crimes at all, like Alabama, for example, which clocked only nine hate crimes for all of 2017. Arkansas reported only seven. Georgia reported 28 hate crimes, but three from Atlanta.
"I've heard a lot of different reasons of why they don't," former FBI Agent Cynthis Deitle, of the Matthew Shepard Foundation, said. "I've heard everything from 'We don't have hate crime here,' (to) 'There's no reason to report something that's not happening.' I've heard, 'We don't have to, someone told me somewhere in our state, I don't think I have to.'"
There is no federal mandate for local agencies to report hate crime stats to the feds.
"You're kind of damned if you do, damned if you don't," Wine said. "We're following the law, which makes us look bad, but if we don't make the reports, we're not following the law."
Wine said he applauds Kentucky legislators for passing a law years ago requiring local agencies to report hate crimes.
"I still think there needs to be more training to make sure that officers everywhere are making those reports," Wine said.
The numbers matter to Neal, representing a step toward working to solve the problem of hate itself.
"Kentucky needs to have a nice little talk to try to work through these things so all of us can be more healthy," Neal said.
In Kentucky, Lexington reported the most hate crimes in 2017, with 20, followed by Florence with 19, Bowling Green with 18 and then Louisville Metro with 11 cases.
LMPD declined an interview for this story, saying no one was available, but said once a patrol officer takes an initial report, the hate crime incident is verified by a commanding officer, usually a sergeant. It is then reviewed by the Data Integrity Unit of Records Management while the case is investigated.
"This process allows for many checks and balances to help ensure no hate crimes are missed," Jesse Halladay, Advisor to LMPD Chief Steve Conrad, said in an email. "Once the information is entered into the department's (records management system), reports are generated and sent to the Federal Bureau of investigation and the Kentucky State Police.
Copyright 2019 WAVE 3 News. All rights reserved.