Kentuckians can now plug emergency contact info into licenses, IDs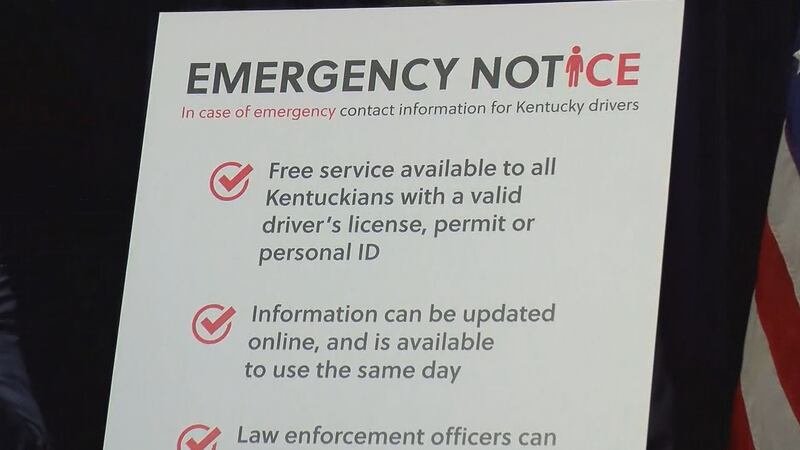 Updated: Mar. 7, 2019 at 6:46 PM EST
LOUISVILLE, KY (WAVE) - A new tool to keep drivers safe along Kentucky roadways launched on Thursday.
It's called Emergency Notice. The service would allow law enforcement to access a contact registry in the event a Kentucky driver's license, personal ID or permit cardholder is involved in a serious crash or emergency situation.
The Kentucky Transportation Cabinet developed the portal to offer timely notification to loved one. It's free and completely voluntary, though both Kentucky State Police and the Department of Criminal Justice Training have encouraged all Kentuckians to sign up.
"Following a serious automobile crash, this valuable tool will significantly expedite communication between first responders and a driver's loved ones," Kentucky Governor Matt Bevin said of the service. "Time is of the essence during an emergency, and we are excited to make this easy-to-use system available to all Kentuckians."
The system also comes with an added bonus.
"If you opt in for the Emergency Notice you can also opt in to give your email address and your phone number and the Transportation Cabinet can give you updates to let you know when driver's license information is needed - specifically when you need to renew your driver's license."
The service is only available to valid Kentucky cardholders and requires the participant's license number, date of birth and first and last name.
Click here to register for the Emergency Notice program or call KYTC at 502-564-1257.
Copyright 2019 WAVE 3 News. All rights reserved.