Behind the Forecast: Buzz behind weather's impact on bees
Listen to Science Behind the Forecast with Meteorologist Tawana Andrew every Friday on 89.3 WFPL at 7:45 a.m.
Updated: Mar. 8, 2019 at 9:38 AM EST
LOUISVILLE, KY (WAVE) - Bees are key to the sustainability of our planet. They are an important pollinator for not just wild plants about also crops. Without the 30,000 bee species around the world, we wouldn't have our morning coffee or that eggplant parmesan for dinner. Ninety commercially grown crops in North America rely on honeybees. More than $15 billion worth of crops each year are pollinated by honey bees in the United States. So basically fewer bees can contribute to a less productive harvest.
Most of us have heard about pesticides and disease affecting bees but our weather and an evolving climate can have an effect on bees. Weather and climate have a significant impact on their populations and habitat. A 2015 study found that as temperatures around the globe rise, the southern boundaries of North American bumblebee ranges are being pushed north. However, the northern edges of the ranges remain the same. Researchers found that bees lost a range of nearly 200 miles across North America and Europe.
Honey bees don't hibernate during the winter; they actually survive by creating their own heat source. They cluster together around the queen, eggs, and larvae in the hive as temperatures fall. The honey bees on the outside of the cluster insulate those on the inside of the sphere who feed on honey stockpiled for winter, according to Terminix. When temperatures drop below 57 degrees, the bees are basically stationary, using their combined body heat to stay warm. They create this heat by flexing the thorax muscles, creating a vibration that raises their body temperature and actually increases the temperature at the center of the bee cluster to the low 90s!
PREVIOUS SEGMENTS:
This is why honey bees toil during warmer weather. Without a stockpile of honey, they will have no energy to keep warm. Without warmth, in the winter they will die.
German scientists found that warming temperatures may cause temporal mismatches between the bees and the food they depend on. That means if a bee hatches too early in the Spring, they may be without food for the first days or even week of its life, especially if a warm period is followed by a cold snap. The queen lays eggs when the weather becomes more mild, increasing the worker population. A wave of cold air during this time would leave the bees unable to harvest and replenish their quickly depleting honey stores for the ever growing colony. The Collaborative Research Center found that "a minor temporal mismatch of three or six days is enough to harm the bees."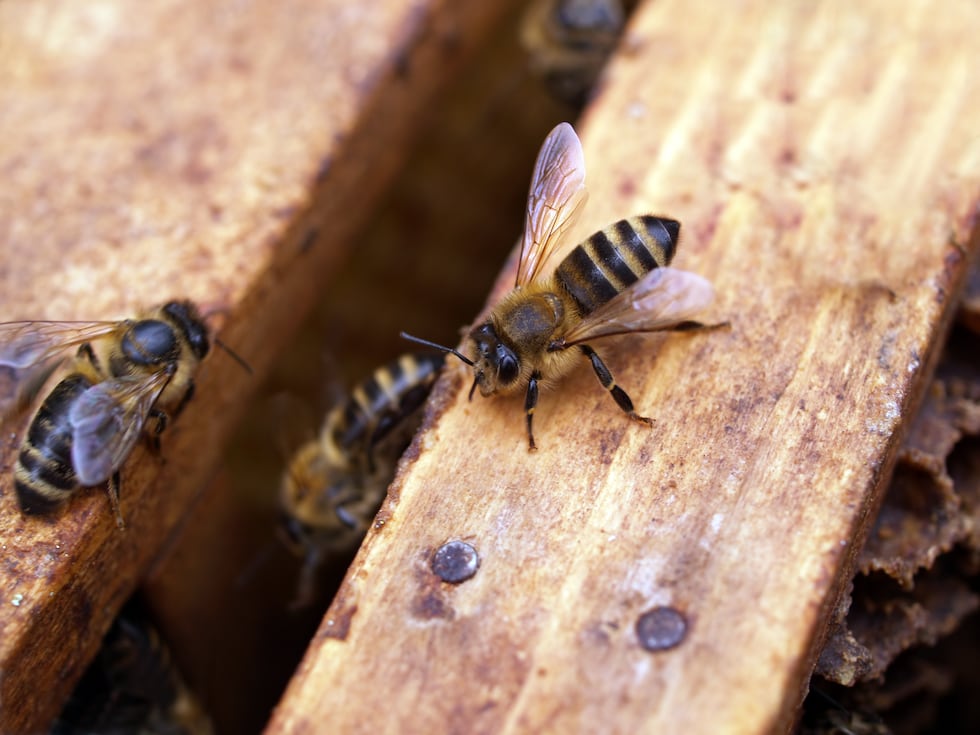 Temperature is not the only thing that affects the bee's harvesting habits, precipitation does too.
Researchers say that bees do not leave their hives during rain and gather water to keep the colony cool on very hot days. Weather that impacts their food sources leaves bees at even more of a disadvantage. Weather that's too dry can affect flowers, an important food supply, reducing the amount of nectar available for harvest. Honey bees aren't attracted to certain flowers after rain because nectar becomes diluted.
As the climate evolves, temperature, precipitation, and humidity fluctuations will most likely impact plant life, in turn, impacting the honey bees which we so greatly depend on.
Copyright 2019 WAVE 3 News. All rights reserved.