KEA asks teachers not to sickout ahead of ACT testing day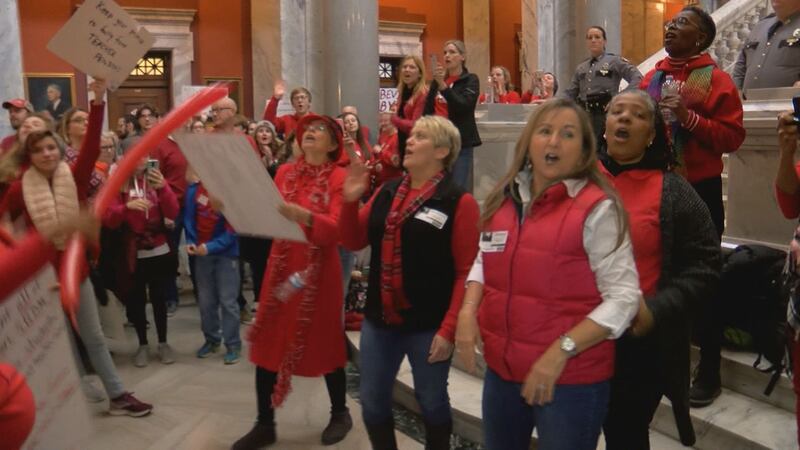 Updated: Mar. 11, 2019 at 5:35 PM EDT
LOUISVILLE, KY (WAVE) - Kentucky lawmakers are set to meet again Tuesday, as the final stretch of the legislative session gets underway.
Just as familiar to Frankfort as legislators may now be the teachers that have been showing up after sickouts to protest bills they feel hurt educators.
Some are wondering whether another canceled day of classes is on the way with a statewide day of ACT testing set for Tuesday.
Kentucky Education Association President Stephanie Winkler said a sickout Tuesday is not in the best interest of teachers and students.
Winkler said she's encouraging teachers to continue to send delegates to Frankfort instead of calling out in mass, causing classes to be cancelled.
Social media groups have organized several sickouts this year without the KEA calling for them.
Winkler said she doesn't know what those groups plan to do Tuesday.
She said students need to be in school as juniors are set to take the ACT -- around 6,000 would take the test across JCPS.
By 8:30 p.m. Monday, JCPS announced it rescheduled the ACT test planned for Tuesday to April 24.
Just after 10 p.m. Monday, JCPS canceled classes on Tuesday due to "a third of teachers being absent and the inability to safely cover a large number of classes with substitute teachers."
The groups have rallied in Frankfort against several bills:
HB 525 would restructure the board that oversees teacher pensions, HB 205 would offer a private school scholarship tax credit and Senate Bill 250 would allow Superintendent to choose principals instead of site based decision making councils.
Republican leadership in the House and Senate have said they don't foresee language from the private school scholarship tax credit bill to be slipped into a revenue bill during conference committee over the next few days, but some teachers are still concerned.
"I'm never confident of anything happening under the guise of night," Winkler said. "You know, we will be watching the conference committee as much as we can and as much as it is open, but we hope that legislators know that we're watching."
The Senate Education Committee chair said the meeting Monday will be the last time the group comes together, unless extraordinary circumstances arise.
House Bill 205 and 525 would still need Senate committee approval to pass if they make it through the full House, but the two bills were heard in appropriations and state government committees, not the House Education Committee.
The General Assembly meets Tuesday through Thursday this week. One more legislative day will occur at the end of the month.
Copyright 2019 WAVE 3 News. All rights reserved.