Louisville couple wins, weds at White Castle
Updated: Mar. 24, 2019 at 5:18 PM EDT
LOUISVILLE, KY (WAVE) - It was a nice day for a white wedding. A White Castle wedding, that is.
Louisville couple Tori Williams and Jonathan Penick tied the knot at the White Castle on East Market St. Sunday at noon.
Williams and Penick have been together for nearly two years and entered a radio contest to win the wedding. Q103.1 provided the cake and flowers, and White Castle provided the venue and the catering.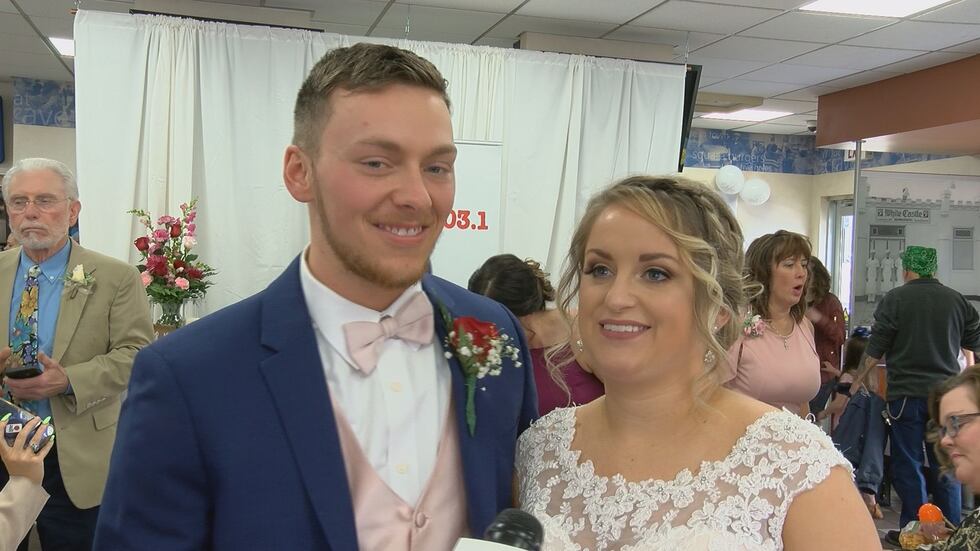 Williams is in school, so the prize takes a financial load off the couple.
"White Castle has a very special meaning to my fiancé and I, and his grandmother, who is still with us at the ripe age of 98, loves White Castle," Williams said in a statement. "I have worked hard all my life and strived to be the best person I can be and would love to have the opportunity to not add any more debt to my collection of school loans."
But they said the fast-food spot also has sentimental meaning for their family.
"Nanny is sitting right over there. That's his 98-year-old great grandmother who loves White Castles. We take her White Castles whenever we go and visit her, so this is for her. She rode in the limo with us," Williams said.
To enter the contest, Q103.1 listeners were asked to complete an online essay of 200 words or less explaining why they wanted to be married at White Castle. Each entry was judged on the sincerity, originality and creativity of the story.
Over the past 10 years, more than 75 couples have been married at "Love Castles" all over the country.
Copyright 2019 WAVE 3 News. All rights reserved.