Behind the Forecast: How weather affects you and your pet's allergies
Listen to Science Behind the Forecast with Meteorologist Tawana Andrew every Friday on 89.3 WFPL at 7:45 a.m.
Published: Mar. 29, 2019 at 8:16 AM EDT
LOUISVILLE, KY (WAVE) - It's Spring and that means pollen counts are on the rise. The Asthma Allergy and Foundation of America ranks Louisville sixth nationwide as the worst city to live in for allergy sufferers this year. Pollen and mold counts, as well as allergy medicine usage and availability of board-certified allergists, factor into the ranking. Regardless of where we are, itchy, watery eyes, a runny nose and sneezing are never fun to deal with.
Pollen is a fine yellowish powder that is transported from plant to plant by the wind, by birds, by insects or by other animals, according to the American College of Allergy, Asthma, and Immunology. Allergic rhinitis, or hay fever, affects 40 to 60 million Americans. Allergic rhinitis can be seasonal or perennial. Seasonal symptoms occur in the Spring, Summer and even Fall and are mostly caused by a sensitivity to pollen from various plans or mold spores. According to Pollen.com, an allergy sufferer's immune system works overworks and reacts to innocuous substances like pollen. The American College of Allergy, Asthma, and Immunology said perennial allergies are caused by dust mites, pet hair, mold or cockroaches year round.
PREVIOUS SEGMENTS
Weather can certainly impact allergy afflictions. Wind and warmth can exacerbate symptoms while rain, dry weather, and cold weather may provide relief. The wind whips pollen straight from the source plant right into our susceptible respiratory systems. Warmer winters can help to initiate pollen production earlier. If these higher temperatures last into Spring then higher pollen counts can ravage allergy sufferers earlier in the season. Experts explain that wild temperature swings can lead to more susceptibility to allergens since the varying temperatures can cause the immune system to be on high-alert. Cold air can be an allergy sufferer's saving grace. Rapid drops on temperatures can freeze pollen production. Humidity and rain can weigh down pollen, keeping it from being blown around by the wind. Rain is a double-edged sword. While it clears the atmosphere of allergens but also promotes plant growth while heavy rain can burst pollen particles thus allowing them to travel further. Dry weather spells, in turn, reduce plant growth thus reducing allergens.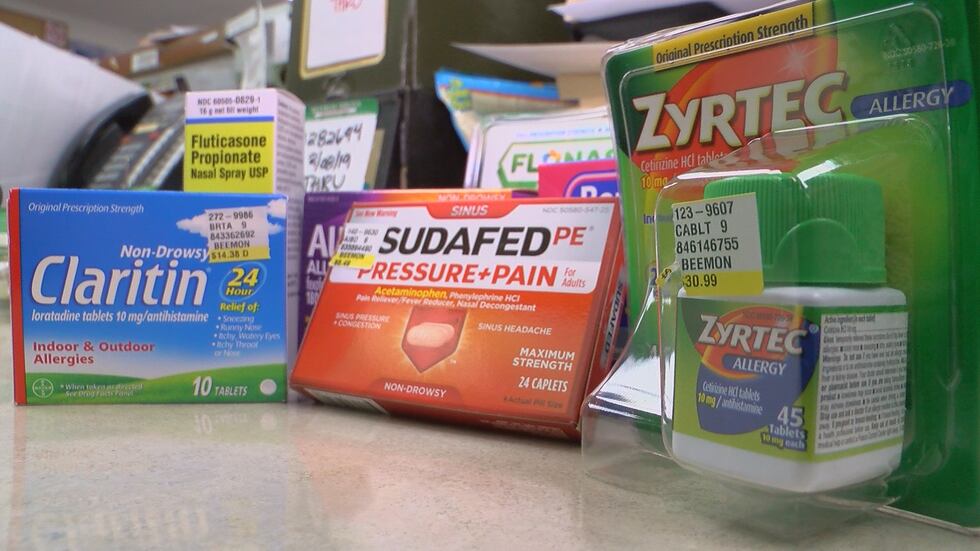 Humans are not the only ones dealing with seasonal allergies. Our pets suffer through it too! Atopy, also known as environmental allergies or atopic dermatitis, is a common cause of itchy skin in dogs, according to vetstreet.com. Their triggers can be the same as ours, ranging from mold spores to dust mites and even pollen. Experts say symptoms can manifest as animals licking, scratching or licking certain areas of their body including their face, paws and rears. Other signs include, but are not limited to, skin redness, a rash, excessive shedding or ear infections. Any breed of cat or dog can be affected. If you think your pet is having an allergic reaction, ask your veterinarian about appropriate treatments.
Just to make your nose tickle even more, remember that "pollen bombs" are a thing. They occur when temperatures warm after an extended winter which causes plants to release a considerable amount of pollen over a short period of time. Check out the video below of a massive pollen bomb in Millville, New Jersey.
Copyright 2019 WAVE 3 News. All rights reserved.