Roof collapse closes Korean restaurant, several other businesses in St. Matthews
Updated: Jul. 27, 2019 at 11:12 PM EDT
LOUISVILLE, Ky. (WAVE) - A string of businesses in St. Matthews are closed until further notice due to a potentially dangerous roof issue.
The issue surrounding the Gallerias at St. Matthews on Oechsli Avenue, that houses Havana Rumba, Half-Peach Bakery & Cafe, Del Frisco's and Charim Korean Restaurant, was caught by the property owner this week, according to St. Matthews Mayor Rick Tonini.
Charim has been closed since July 19, according to Facebook. A look inside the Korean restaurant paints a better picture of the danger the roof issues have caused. The sky could be seen from a massive hole in the building, with debris and parts of the roof scattered across the dining room.
Owner Yeonhee Chung said they started having issues about a month ago when water started seeping down the kitchen wall every time it rained.
She said the landlord came in to fix it and everything was fine until last Wednesday, when a customer pointed out there was dust falling from the ceiling.
Chung got in touch with her landlord who she said told her it would have to wait a day, but the ceiling had other plans. It started to come down on customers.
"I am so thankful they are not hurting," Chung said. "I was very shocked."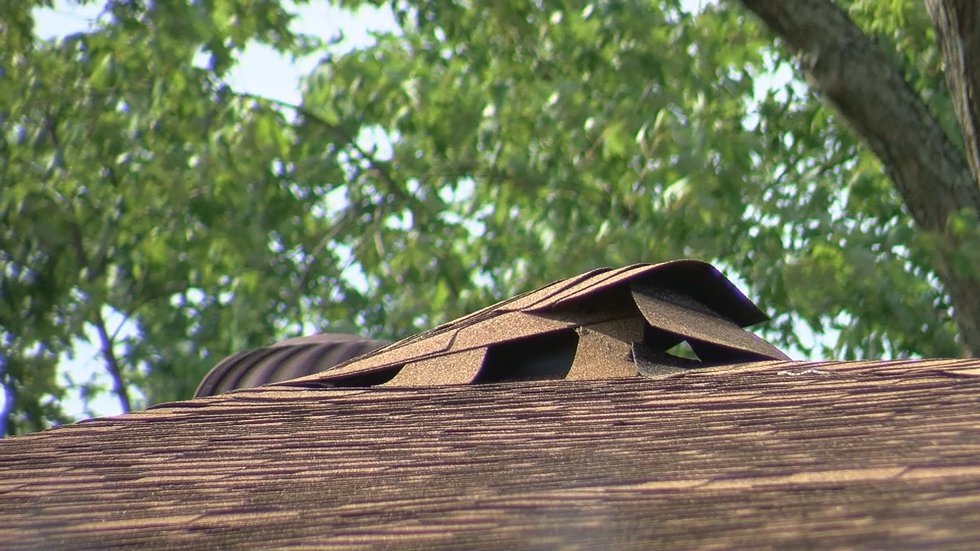 Friday, the roof decided to join the ceiling. Seven and a half years, crumbled right before Chung's eyes, with no definite answer from the landlord when repairs will begin.
A call was made to IPL, Metro Inspections, Permits and Licenses, to take a look.
That's when officials noticed a failure in the roof structure.
"They determined that if that failed, the rest of the building could fail," Mayor Tonini explained.
All of the businesses in the building closed as soon as possible, due to the possible risks associated with the failure. The owner of Half Peach, Sue Chao, said she was scared when she heard the news - more for her customers and staff than herself.
"I feel so sorry for all the customers, they cannot eat our food right now," Chao said. "I feel so bad for our customers and for my employees."
Havana Rumba took to Facebook to address the issue, encouraging customers to visit one of their other locations during the closure. The local chain's other spots are in Middletown and on Bardstown Road in the Highlands.
Mayor Tonini said crews will have to determine the exact problem and correct it before any of the businesses can re-open, though there's no timeline that follows when that could be.
With the restaurant closed indefinitely, Chung said the hardest part is knowing her employees won't have a job for awhile.
"I work with them long time," Chung said. "If I lose them, that is the most important too and that makes me very sad."
Chao is also holding out hope for a speedy and thorough fix.
"We will pray for everything to be going good," Chao said. "We're going to face some problems but when we re-open we're glad to serve you again."
Warm Reflexology, a massage therapist, also resides in the building.
WAVE 3 News reached out to the landlord but have not heard back. Looking into recent inspection histories, there was only one listed in 2019 for Havana Rumba's unit and it showed no violations.
Copyright 2019 WAVE 3 News. All rights reserved.