First responders honor fallen Meade County Sheriff's Deputy
Updated: Sep. 23, 2019 at 5:08 PM EDT
MEADE COUNTY, Ky. (WAVE) - He will be remembered as a man who served his community, a person who would do anything to help others. People are honoring Meade County Sheriff's Deputy Chris Hulsey on Monday.
Hulsey died from a medical emergency Saturday night in Payneville. It happened after an altercation with a suspect he was trying to arrest.
>> PREVIOUS STORY: Man charged with manslaughter after Meade County deputy dies
Deputy Hulsey's autopsy was performed Monday, the results have not been released yet. Several first responders came out on Monday to escort Hulsey's body from the Harrison County Hospital in Corydon, Indiana, where he was pronounced dead, to Hager Funeral Home in Brandenburg, KY.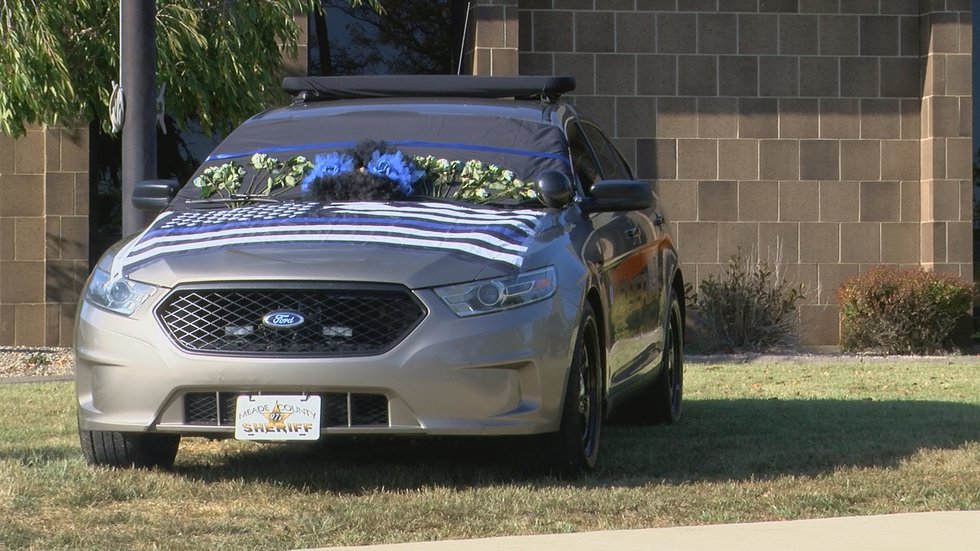 A long stream of flashing police lights was seen along the route, along with people pulled over their cars who got out to pay their respects.
Susan Ammons and her great-niece, Charlotte, were outside the funeral home as Husley's body was brought over. They were holding the American flag.
"She waved," Ammons said. "She's two, she doesn't really understand but one day she will. He was a great guy, great paramedic, firefighter, deputy... an asset to our community."
Judy Gulish lives next to the funeral home. She's seen a lot of grief over the years but says this is different.
"Makes you feel like one of your own," Judy Gulish said.
For Meade County EMT, Shawn Thomas, Hulsey was.
"We were partners, he was a paramedic on my truck," Thomas said.
Thomas says he'll miss the conversations he had with Hulsey.
"Not only was he a good person, he was a mentor," Thomas said. "He always had this you would talk to him and look at him and think this big mean. When you see him in the back of the truck with patients he was a teddy bear."
According to a press release from the Meade County Sheriff's Office, Deputy Hulsey was issuing a search warrant at around 6:20 p.m. on Saturday in the 1200 block of Greer Road in Payneville. The sheriff's office says Hulsey saw the suspect, Terry Gonterman, throw a small container into the weeds. Once recovered, the item was determined to be a metal film canister with two small bags of suspected methamphetamine. While attempting to arrest Gonterman, Deputy Hulsey "went hands-on with Gonterman to place him in custody."
Following the altercation, Hulsey fell to the ground and appeared to have trouble breathing, Gonterman's arrest report stated.
Two detectives issued CPR until Deputy Hulsey was transported to Harrison County Hospital, where he was pronounced dead.
Gonterman is now charged with manslaughter, trafficking, assault and possessing drug paraphernalia.
Thomas says he had just seen Hulsey earlier that day after they got done with their shift.
"He was a one-of-a-kind person," Thomas said. "He died doing what he loved."
A candlelight vigil will be held for Deputy Hulsey on Tuesday, Sept. 24th at 8 p.m. at the Meade County Courthouse.
Hulsey's visitation will be Friday, Sept. 27th from noon to 8 p.m. at Hager Funeral Home.
His funeral service will be Saturday, Sept. 28th, at 1 p.m at the Meade County High School Gym.
Copyright 2019 WAVE 3 News. All rights reserved.