March for Meals program distributes free food to seniors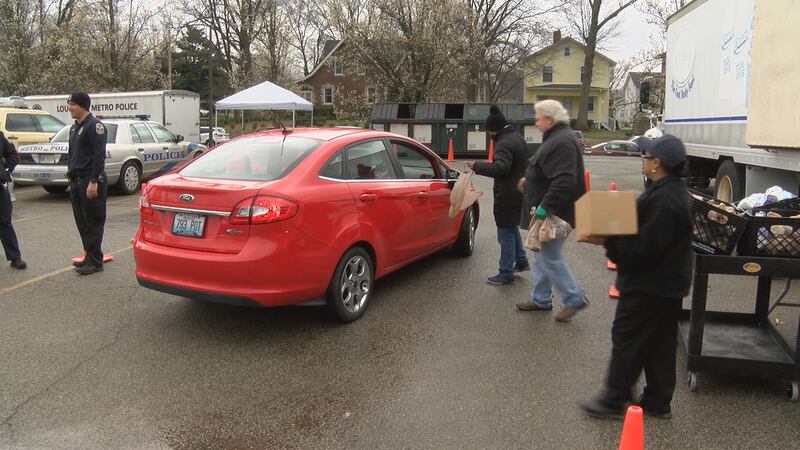 Updated: Mar. 17, 2020 at 5:11 PM EDT
LOUISVILLE, Ky. (WAVE) - Tuesday was the kickoff for the city's new March for Meals program.
The program is designed to provide a week's worth of frozen meals for those age 60 and older while the city responds to concerns over COVID-19.
Meals will be available on a first-come, first-served basis from 10 a.m. until noon. The meals will be limited to one box per person and up to five frozen meals per week.
The drive-thru meal program moves to a different community center each weekday. Due to tremendous response, some distribution sites have changed over the course of the week to better accommodate traffic flow and ensure recipients can remain in their vehicles for pickup.
Mondays – St. Stephen Church (1018 S. 15th St., 40210)

Tuesdays – Beechmont Community Center (205 Wellington Ave., 40214)

Wednesdays – Sun Valley Community Center (6505 Bethany Lane, 40272) or East Government Center (200 Juneau Drive, 40243)
Thursdays – Southern High School (8620 Preston Hwy., 40219) or Newburg Community Center (4810 Exeter Ave., 40218)

Fridays – Former Kroger site in Old Louisville (924 S. Second St., 40203)
Organizers say the idea is to keep seniors fed while keeping them away from crowded grocery stores.
Eligibility requirements:
Open to Jefferson County residents only, 60 years and older

​Proof of age will be required

Participants are requested to stay in their cars for meal pickup to help ensure their safety. Please do not park and walk up to the distribution site.

Workers are practicing social distancing so participants are requested, when possible, to roll down back seat windows or press the trunk unlock where meals will be placed.

To help ensure that seniors in need of assistance are being served, eligible seniors should be present at time of pickup. For more information on Metro March for Meals, call (502) 574-5223 or click here.
Over 26,000 meals were distributed during the first week of Louisville Metro March for Meals. The program will run through April 3, at which time it will be reevaluated.
Copyright 2020 WAVE 3 News. All rights reserved.