Graph comparing Ky. and Tenn. coronavirus responses goes viral
Updated: Mar. 24, 2020 at 10:53 PM EDT
LOUISVILLE, Ky. (WAVE) - They look like simple charts and graphs, but when Lexington resident Stephanie Jolly posted them to social media, the bars and numbers said a lot to a lot of people.
Jolly, who has a degree from UK in biology and nutrition and a masters degree in food science from NYU, plotted the early days of the coronavirus outbreak in Kentucky and Tennessee. Her bar graphs on a timeline showed Kentucky's rate of growth was significantly flatter than Tennessee's.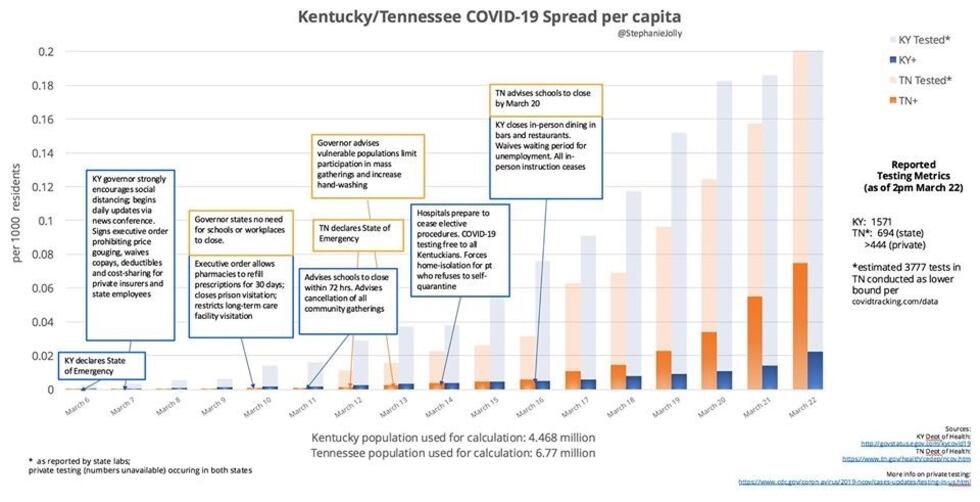 "I think that the one thing people should take away from this is that doing your part, staying at home can potentially make a big difference," Jolly said.
The timeline also shows Kentucky Governor Beshear sometimes acted almost a week earlier than his Tennessee counterpart in shutting down public gatherings and closing schools.
"What we're seeing here is staying at home, avoiding public contact, and minimizing your exposure and exposing yourself to your neighbors can make a difference," Jolly told WAVE 3 News via Facetime while on self-isolation in New York.
She came up with the idea of the graphs while she awaits surgery for thyroid cancer.
"It was never my intention of making this a partisan issue," Jolly said. "Really, I just wanted to call attention to the fact that introducing early intervention methods are going to make a difference."
Jolly's Facebook posts showing the daily updated graphs have been shared thousands of times and seen by people all over the world.
"When I put this on Facebook, it was for my Facebook friends," Jolly said. "Had I known it was going to be seen by most of Kentucky and half the SEC, I probably would have been a little bit more deliberate with my wording. I think it just goes to show when you put something online, you don't know where it's going to go."
Copyright 2020 WAVE 3 News. All rights reserved.