Kentucky Primary voters say #AllEyesOnKentucky message is misguided
Published: Jun. 23, 2020 at 7:06 PM EDT
LOUISVILLE, Ky. (WAVE) - Jefferson County's polling location at the Kentucky Fair and Expo Center saw steady crowds of voters on Election Day, even though the Kentucky Primary Election was originally pushed back more than a month from May 19 to June 23.
The Commonwealth's Primary Election is gaining nationwide attention with less than 200 polling locations across the state. Many celebrities on social media are voicing their opinions about voting being suppressed in Kentucky by using the hashtag #AllEyesOnKentucky online. Those celebrities include Louisville native Jennifer Lawrence, Reese Witherspoon, Regina King, Kristen Bell, and Samuel L. Jackson.
This Tuesday, there will only be 1 polling center for 600,000 voters in Jefferson County, where Breonna Taylor was killed and where half of Black Kentuckians are registered. This is voter suppression. Don't let that stop you. Please #Vote. #AllEyesOnKentucky @Booker4KY pic.twitter.com/4eEKcBJ1SJ

— Jennifer Lawrence - Represent.Us (@JLawrence_RepUs) June 22, 2020
Despite the concerns of celebrities for the ease of access to the polls, many who live in the state are fighting back at the criticism.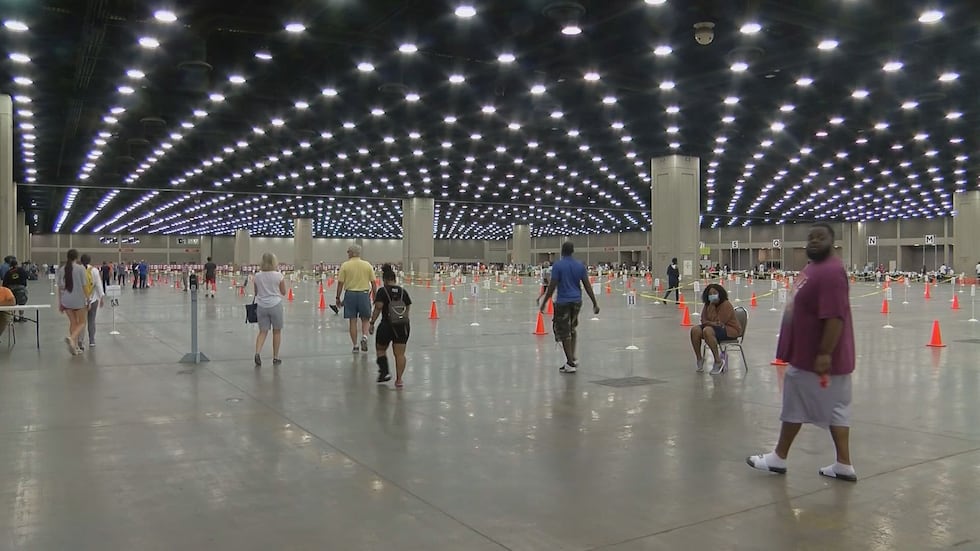 Tuesday, many voters coming at the Fair and Expo Center told WAVE 3 News it may have been the fastest and easiest voting experience they had ever experienced because there were plenty of parking spots and no lines to wait in.
"It was real quick and easy, actually. It was real organized," voter Charles Campbell said.
Holly Frank said the process to cast her ballot was extremely quick.
"I was in there for maybe two minutes and walked right up, got my ballot, and went over to where I filled out my ballot and walked right up to where I cast it," she said.
"I was shocked because this is probably the fastest election or fastest voting process that I've ever been involved with," voter Tyler Ramage said.
Their experiences were a far cry from the national fear spreading on social media about the ability for voters to cast their ballots in Jefferson County. Nore Ghibaudy, the spokesman for Jefferson County's Board of Elections, said the office was unfairly judged after the #AllEyesOnKentucky hashtag started.
"We did get hammered by the national people throughout," he said. "We had a lot of nasty phone calls and a lot of nasty emails."
#AllEyesOnKentucky had celebrities and others complaining about Jefferson County on social media sites like Twitter for having 600,000 voters with only one polling place. But Kentuckians also fought back online and at the polls Tuesday, pointing out the ability to vote by mail or in-person for a full week before Election Day was allowed in Kentucky to help keep voters safe during the pandemic.
Democratic Senate Candidate Charles Booker said he understood the health concerns but did not think one location to vote in Jefferson County was enough.
"I know the governor and state officials have been working expanding voting hours and no-excuse absentee voting and that was a good thing," Booker said. "I'm proud of that. We're going to build on that, but one location is just going to naturally make it hard on folks who don't have transportation."
Booker said he believes his campaign got people to the polls.
Kentucky Sports Radio's Matt Jones, who campaigned for Booker, wrote about the hashtag on Twitter saying, "What's unbelievable about this #AllEyesOnKentucky thing is we have greater opportunity to vote in this election in Kentucky than ever before. It isn't perfect. But the Secretary of State and Governor deserve applause, not scorn."
TARC also provided transportation by busing people to the polls throughout the day.
"I think people that really want to exercise their right to vote, they're going to make it happen," voter Linda Moore told WAVE 3 News at the polls of the national criticism. "They've got buses over there that are picking people up all over the city, and I see many people with multiple people in their cars."
Copyright 2020 WAVE 3 News. All rights reserved.