New Albany church to install security cameras after slave sculpture is vandalized
Published: Jul. 9, 2020 at 7:06 PM EDT
LOUISVILLE, Ky. (WAVE) - A nearly 170-year-old New Albany church will be fitted with security cameras after someone defaced a sculpture in the church's backyard.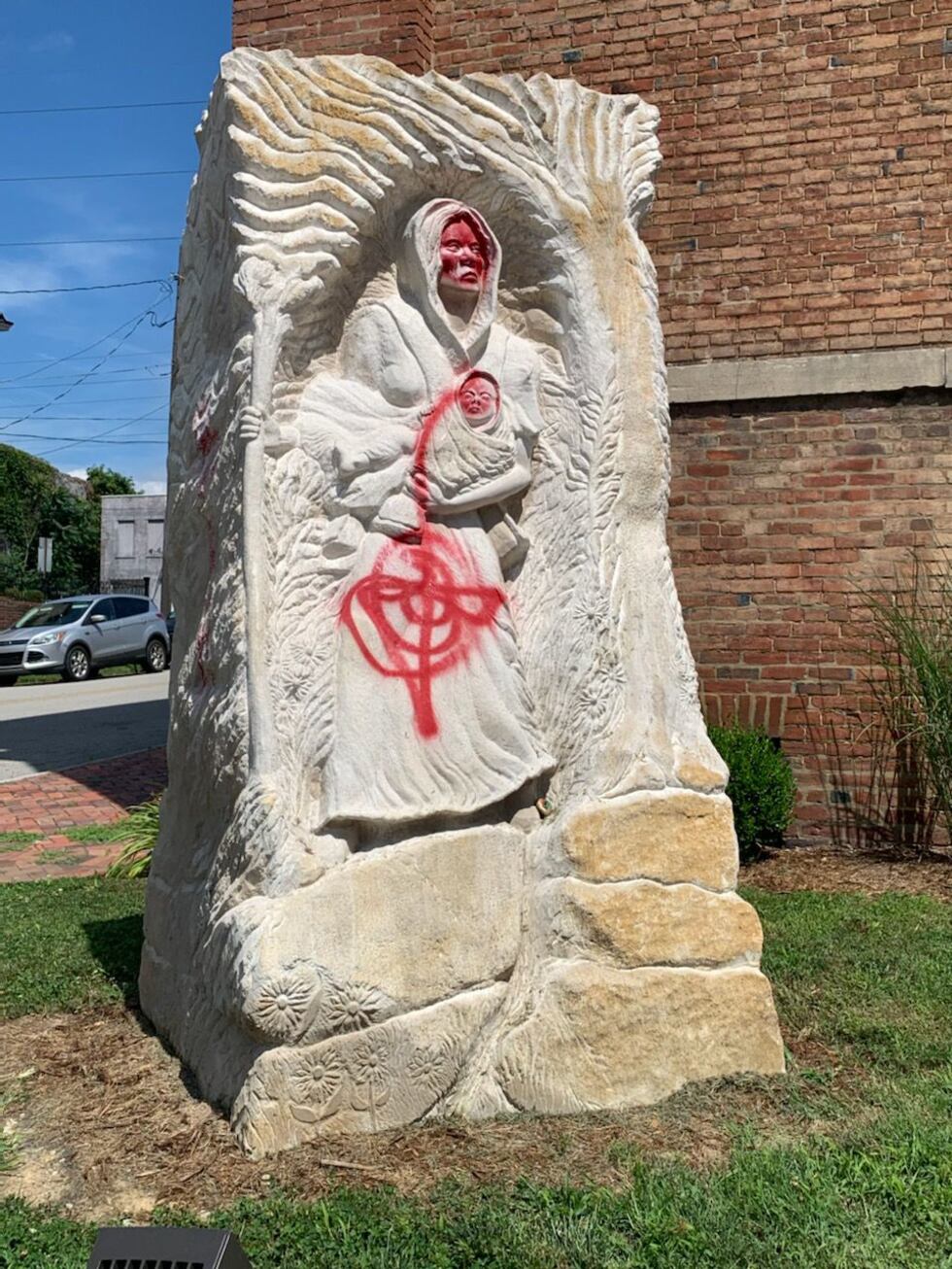 On Friday, someone spray-painted the letters "BLM" and other designs on Second Baptist Church's sculpture of Lucy Higgs Nichols fleeing slavery with her infant daughter. Just hours after the crime, the sculpture's creator chiseled the paint away, while church leaders worked on a more permanent solution.
Friends of the Town Clock Church, a local nonprofit, has been raising money online to install security cameras around the building.
"All community donations, just people saying, 'I want to help,'" Friends of the Town Clock Church Treasurer Jerry Finn explained to WAVE 3 News. "What it will allow us to do is put cameras in place to monitor the gardens and the church as well."
Finn told WAVE 3 News the group has raised around $6,600 between their GoFundMe page and other fundraising efforts. Friends of the Town Clock Church have also raised money in years past to restore parts of the church, which was completed in 1852.
According to Pastor LeRoy Marshall, the church was seen as a beacon of hope during the Civil War era to freedom seekers across the Ohio River. Higgs Nichols, an African American woman, was able to escape slavery and eventually became a nurse in the Union Army, serving the Indiana 23rd Regiment.
Marshall told WAVE 3 News the sculpture serves as an inspiration for his small, majority-black congregation.
"This, this whole situation was really depressing for a lot of our church members," Marshall said. "This is a slap in the face to everybody."
Marshall said he hopes to have the security cameras operational in the next seven-to-10 days.
To read more on the church's historical significance, click here.
Copyright 2020 WAVE 3 News. All rights reserved.