Behind the Forecast: How cooler Pacific Ocean temperatures impact Kentucky, Indiana
Listen to Science Behind the Forecast with Meteorologist Tawana Andrew every Friday on 89.3 WFPL at 7:45 a.m.
Updated: Jul. 17, 2020 at 10:14 AM EDT
LOUISVILLE, Ky. (WAVE) - La Niña is the lesser-known sibling of El Niño, but it can still have a significant impact on the weather across the globe.
La Niña the periodic cooling of the central and eastern Pacific Ocean near the equator.
The National Oceanic and Atmospheric Association's (NOAA) Climate Prediction Center (CPC), along with the International Research Institute for Climate and Society (IRI), issued a La Niña watch last week. They distribute an Outlook on the El Niño-Southern Oscillation (ENSO) on the second Thursday of each month. La Nino is part of ENSO.
A La Niña Watch is issued when conditions are favorable for its development within six months. NOAA's scientists believe that there is a 50% to 55% of La Niña conditions developing during the Fall and lasting through Winter. There is a 40 to 45% chance of neither a La Niña or El Niño, which is called the neutral phase. There's also a 5 to 10% chance for an El Niño.
"The forecaster consensus slightly favors La Niña development during the August-October season, and then lasting through the remainder of 2020," explained National Oceanic and Atmospheric Association's Outlook.
The following are criteria for a La Niña, according to the Climate Prediction Center.
So far, the water over the central and eastern Pacific Ocean near the equator is not cool enough to meet NOAA's criteria.
So how is La Niña important in our area?
It has potential impacts on precipitation and temperature patterns across the United States and the globe. La Niña can play a role in more hurricanes in the Atlantic. It is associated with weaker winds in the upper and lower levels of the atmosphere; this reduces the wind shear that can rip a developing hurricane apart. It also decreases the sinking air and atmospheric stability, priming the Atlantic region for hurricanes.
A strong La Niña has a better chance of affecting Kentucky and Indiana weather compared to weaker events. More significant impacts are seen in our area during the mid-Winter through Spring.
On average, temperatures are warmer than normal across the Ohio Valley during a La Niña Winter (indicated in yellow and orange in the first image below). From November to March, La Niña tends to lead to wetter than normal weather (shown as light blue and teal in the second image below).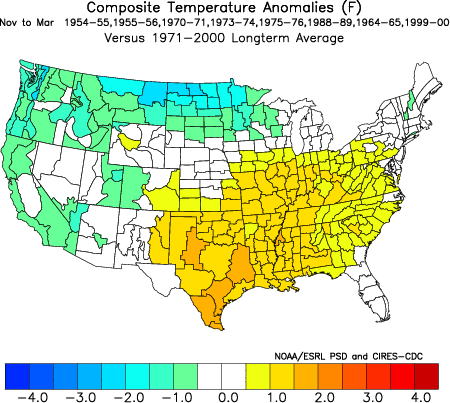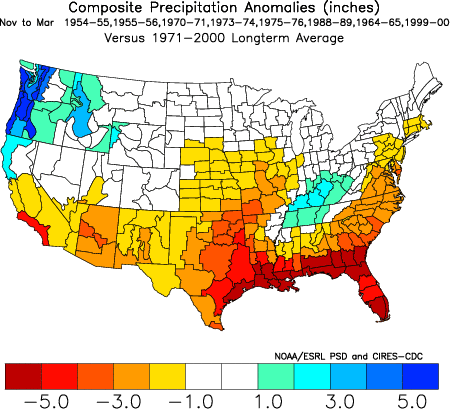 It's important to note that La Niña's impact on the Ohio Valley is small. La Niña's are different each time, so the same impacts may not be seen. This year's potential La Niña is expected to be weak, and the strength of La Niña plays a big role in its impact here.
La Niña is just one piece of the puzzle that controls our weather, so everything must be taken into account.
Copyright 2020 WAVE 3 News. All rights reserved.