Opposing protest groups call for Fischer to resign as Metro Council hears resolution for 'no confidence' vote
Published: Aug. 21, 2020 at 12:32 AM EDT
LOUISVILLE, Ky. (WAVE) - As the Louisville Metro Council works through a measure calling for a 'no confidence' vote in Mayor Greg Fischer, protesters are making sure their voices are still loud and clear.
The Metro Council took a first look at the no confidence measure filed by Republican members Thursday night, but most of the action enacted took place outside of city hall as a small group of protesters formed with a familiar call.
"We are protesting do-nothing politicians," organizer Vincent Palazzo explained to WAVE 3 News.
However, the reason Palazzo wants Fischer to resign isn't what we've normally been hearing in recent protests.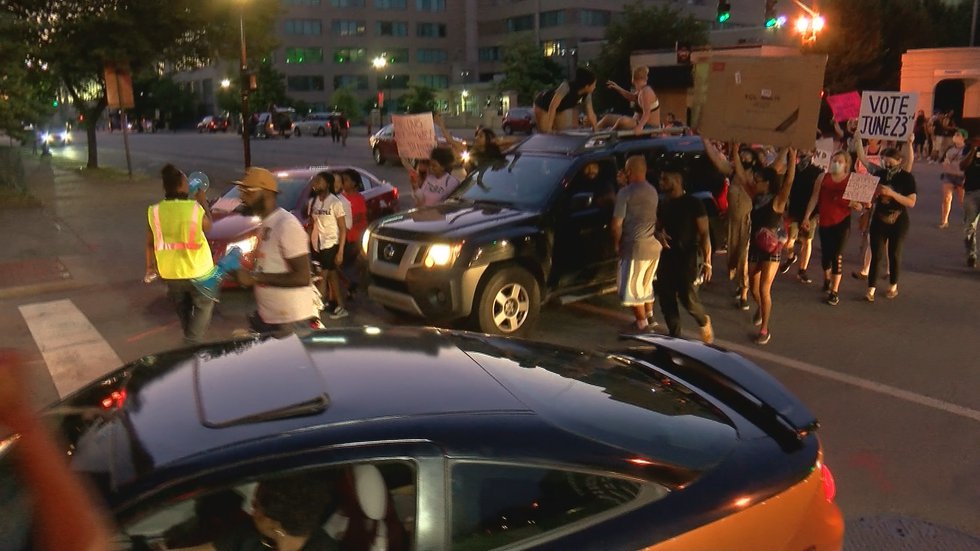 "Previous politicians have spent decades building up downtown and building the city and he's letting get destroyed in virtually one weekend and continues to let this chaos go on," he said.
Palazzo and the group think the mayor won't let the police do their jobs.
"We want our city back," he said.
That statement upset a group from Jefferson Square Park that walked over to see what people were gathering for. The two groups had the same goal, but those motives obviously clash.
"We walked over and saw 'Fischer resign.' Oh cool, but you take a second you listen to the message behind 'Fisher resign' because you can't get the Black people in the streets under control," activist Carmen Jones said.
The group from the park said they felt incredibly disrespected by the display.
"It's our city, too," Jones said. "We pay taxes here, too. Our kids go to school here, too. 'Give me liberty or give me death,' is only patriotic when white people say it, and then when Black people say it, now it's terroristic threatening. Can you see what I'm saying? That's the problem. Whenever we want the same things that they want, it's always a problem and we want our city back and stuff like that. We've never had a city. If that's the case, we've never had a city."
Jones said her reasoning behind wanting Fischer to resign is not because of his inaction with the protests, but his inaction in the Breonna Taylor case.
"He failed to give Breonna justice, and because he continues to ignore the problems of Black and brown impoverished communities, period," Jones said. "That's all, you know. We just want our justice we want equality, we don't want revenge. We don't want nothing like that. We want to be able to live like y'all."
Palazzo and his group said they just want law and order.
"If he wants to do nothing then he needs to go," Palazzo said.
"Just because you want to get rid of Mayor Fischer does not make you an ally, it does not make you our friend, it does not make you welcome on this corner, it doesn't," Jones said.
Jones said she was encouraged to see a group of similarly-aged white protesters sit in Attorney General Daniel Cameron's front lawn, earlier Thursday.
"We have that group of white people, then you have this group of white people who are going to use their privilege for bad and it's just like, when does it stop?" Jones asked.
She added that if this group wants the civil unrest to stop, they have to help fight systemic racism and actually patronize Black businesses in the West End, investing in the people, children, and schools.
Fischer as well as some council democrats have called the no-confidence resolution a political stunt, distracting from the real issues at hand, but it's being introduced for the council to consider.
The resolution was sent to the Metro Council Public Safety Committee to be heard next week. If it makes it out of committee, then it moves to the full council for a vote.
Copyright 2020 WAVE 3 News. All rights reserved.