The Possibility City is plastered in plywood
Updated: Sep. 23, 2020 at 12:33 AM EDT
LOUISVILLE, Ky. (WAVE) - From a distance, it still looks like one of America's great stories of downtown rebirth. There were 50 active construction projects last year and at least $630,000,000 invested.
But come a little closer. Louisville reborn now looks more like Louisville deceased, quiet as a funeral except for sawblades or nails. Every window on every business on every street is sealed up.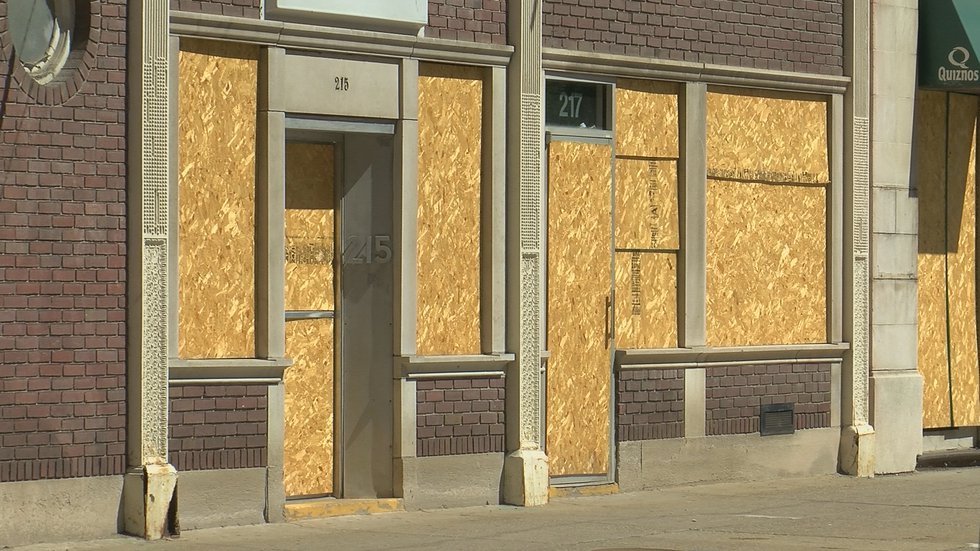 From the ordinary to the ornate, downtown décor is consistent with $22 sheets of plywood. Business owners are prepared for the worst because they remember what happened at the end of May: fires, shootings, looting. One owner literally camped in his doorway to try to save it.
"The first day everything was broken down I slept here for three days in the front of my door," Safier Mediterranean Deli owner Youness Elmesyah said. "Yeah, I actually stopped them."
Elmesyah said his neighboring businesses that were damaged have all closed down, yet some downtown businesses that look closed are still open.
Businesses people would never dream would have to board up are hiding behind plywood, like a hospital -- a children's hospital.
"I'm tired of it," frontline health care worker Frances Johnson said. "It hurts my heart to see people go through this, but if this is what it takes for them to think, and think about what they're doing, it needs to happen. There needs to be a change in the world."
If allowed beyond the barricades and police perimeter, anyone could drive past the 40 downtown blocks now sealed off and see Louisville looking ready to withstand a hurricane. Nowhere near a coast, the city is in a sea of protest and in the eye of a storm that may be coming, or maybe not. It's tougher to forecast these things.
"Seeing our beautiful downtown getting literally destroyed, man it's just heartbreaking," Elmesyah said. "Very heartbreaking."
So for now, many are focusing on what they can do to keep the metro safe.
Copyright 2020 WAVE 3 News. All rights reserved.