Breonna Taylor: Protesters pack city streets following grand jury decision
Dozens arrested Wednesday
Updated: Sep. 24, 2020 at 5:18 AM EDT
LOUISVILLE, Ky. (WAVE) - Police and protesters clashed on city streets in the Highlands and downtown Louisville on Wednesday following a grand jury's decision to clear two of the three police officers involved in the deadly raid on Breonna Taylor's apartment.
Taylor was killed when the LMPD narcotics officers served a warrant on her home on March 13.
Wednesday, a grand jury cleared Sgt. Jon Mattingly and Det. Myles Cosgrove, but, as many expected, charged Brett Hankison with wanton endangerment. Hankison, who was fired in June, was charged with three counts and had his bond set at $15,000.
WAVE 3 News captured video of officers and protesters clashing along a normally busy stretch of Bardstown Road in the Highlands. Watch that video below:
(Story continues below the video)
A short time later, a WAVE 3 News crew needed a security guard to calm down a protester who had confronted reporter Kaitlin Rust.
(Story continues below the video)
Earlier Wednesday, in anticipation of protests, Louisville Mayor Greg Fischer imposed a 72-hour curfew between the hours of 9 p.m. and 6:30 a.m. Only those going to work or church or seeking medical services are allowed out in the city during those times.
Ahead of the curfew, as protesters were caught on video lighting fires at the Hall of Justice and inside Jefferson Square Park trash cans, Louisville Metro issued an emergency alert telling people to go home.
"Emergency Alert: Louisville Metro under a curfew beginning at 9pm tonight until 6:30 am," the message read. "Please begin heading home now."
(Story continues below the photo)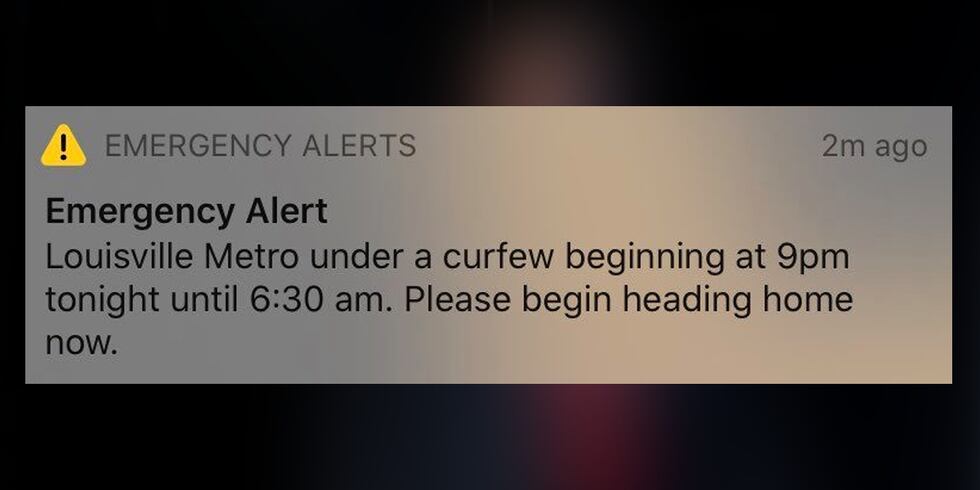 At about 8:30 p.m., two LMPD officers were shot near the intersection of Brook Street and Broadway, near where protesters had gathered. LMPD Interim Chief Rob Schroeder said the officers were stable and that a suspect was in custody.
At about 11 p.m., LMPD confirmed that 46 protesters were arrested Wednesday.
Copyright 2020 WAVE 3 News. All rights reserved.