Lawyer for Breonna Taylor's family says warrant should not have been approved
Published: Oct. 8, 2020 at 5:46 PM EDT
LOUISVILLE, Ky. (WAVE) - An attorney for Breonna Taylor's family said Thursday that false information allowed LMPD narcotics detectives to secure the search warrant they used to raid Taylor's home the night she was shot dead.
Lonita Baker said the Public Integrity Unit's recently-released investigation into the Taylor case, all 4,400+ pages of it, show the case was handled egregiously from beginning to end, from obtaining the search warrant to executing it.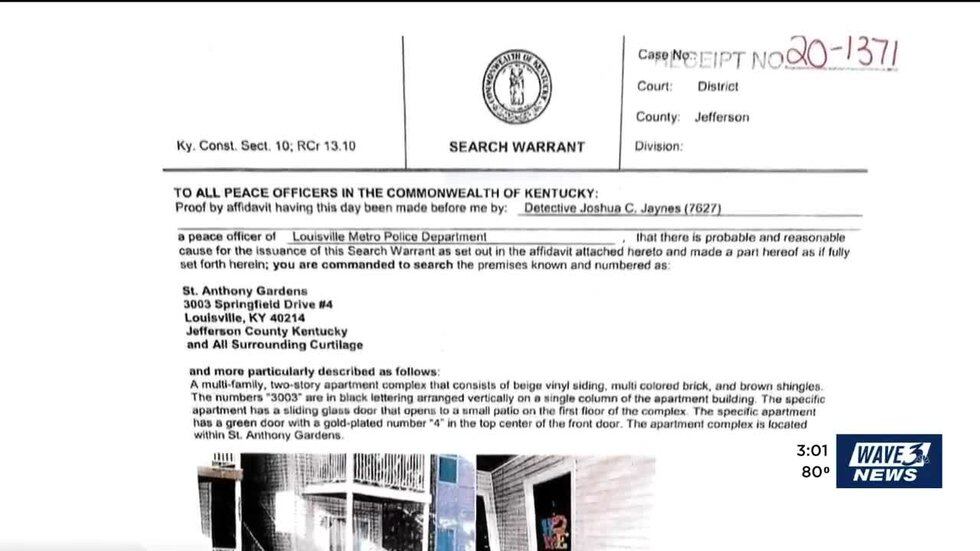 The file shows Det. Joshua Jaynes requested the warrant because he believed Taylor's ex-boyfriend, Jamarcus Glover, was using her apartment to store drugs and suspicious packages. In recorded police interviews, however, multiple officers stated that was not true. One officer from Shively even said the postal service stated no suspicious packages were going to her apartment.
"It's disappointing that (Kentucky Attorney General) Daniel Cameron has admittedly not pursued any charges as (they) relate to the affidavit," Baker said. "We know from the interview of the postal inspector they never confirmed there were suspicious packages that Det. Jaynes indicated in the search warrant."
Glover was taken into custody a short time before the Taylor shooting during a separate raid at a suspected drug house on Elliott Avenue in west Louisville.
Baker cited other discrepancies. According to the massive PIU file released Wednesday, officers went back in May, two months after Taylor's death, to gather more information from surveillance video, recordings, and other sources that officers were not privy to prior to the raid.
(Story continues below photo)
"You see another discrepancy in their paperwork where it shows Louisville Metro police officers went back after Breonna's death on March 13 to begin gathering information and the pole cameras on the Elliott address," Baker said. "They notate Breonna's black (Dodge) Charger was her car, but in the search warrant, they reference the car she did not have for two months, the white vehicle. Only once the distinction was pointed out by the legal team for Breonna Taylor did LMPD go back and figure out, 'Oh, we did have the wrong car listed in the search warrant.'"
Baker said had LMPD conducted a proper investigation or surveillance, a car that no longer belonged to Taylor would not have been on the warrant; it would have listed her Charger. Baker said Taylor traded a white Impala in for the Charger in January and added she was no longer in possession of the Impala, which was returned to the dealership. Baker said Jaynes also requested search warrants for phone numbers he said were used by Glover but were registered to Taylor.
"That phone number was Breonna Taylor's phone number," Baker said. "Goes again to the sloppiness of the entire investigation that led to Det. Jaynes getting the search warrant. They were pinging the location but it was Breonna's phone."
WAVE 3 News has previously reported that Glover had used a phone number registered to Taylor, and also used her address for a bank account in his name.
Baker, a former prosecutor, said there was not sufficient evidence or probable cause for the search warrant to be signed off on by a judge, adding that she "highly doubts a judge would have signed it (if the judge knew) those lies were contained in it."
Read the transcripts from the officer and witness interviews with the PIU. Below is a list of whose interviews appear on which pages:
Kenneth Walker (1-48)

Sgt. Jon Mattingly (49-78)

Det. Brett Hankison (79-105)

Det. Myles Cosgrove (106-130)

Ofc. Mike Nobles (131-149)

Det. Mike Campbell (150-162)

Shawn Hoover (163-201)

Ofc. Tony James (202-233)

Sgt. Brandon Hogan (234-254)

Sgt. Joel Casse (255-283)

Sgt. Michael Burns (284-296)

Chief Steve Conrad (296-305)

Name redacted (306-311)

Name redacted (312-319)

Name redacted (320-322)

Name redacted (323-325)

Det. Mike Kuzma (326-333)

Sgt. Timothy L. Salyer (334-349)

Lt. Dale Massey (350-367)

Det. Josh Jaynes (368-413)
Copyright 2020 WAVE 3 News. All rights reserved.