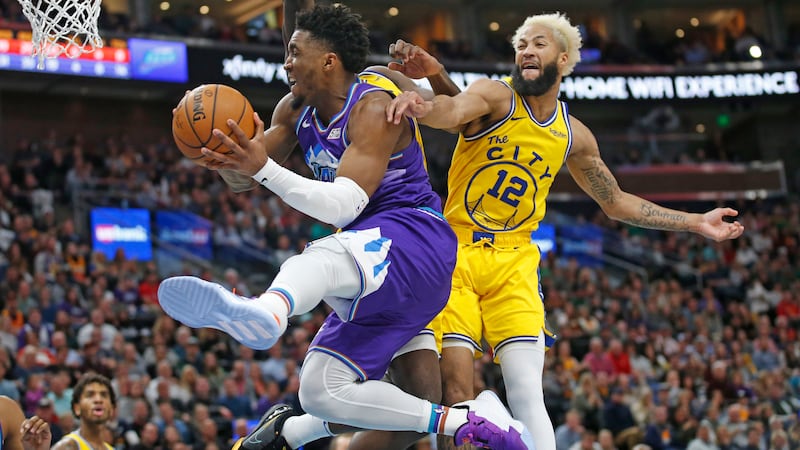 Published: Nov. 23, 2020 at 9:33 PM EST
LOUISVILLE, Ky. (WAVE) - Here we go.
The point in the calendar when football and basketball collide. Only in 2020, they are both also in a battle with COVID-19.
#1 - The cancellations and postponements are coming fast and furious. The #5 UofL women had to find an opponent for a Wednesday opener after Middle Tennessee had to back out. The Cards will visit Southeast Missouri at 3 p.m. on Wednesday.
#2 - The much anticipated Calipari vs. Calipari showdown in Rupp Arena on Friday is off. Detroit Mercy had to back out of the Bluegrass Showcase. Brad Calipari plays for the Titans. #10 UK will still play Morehead State on Friday at 6 p.m. and Richmond on Sunday at 1 p.m.
John Calipari said this about his young team on Monday. "We're just going to try to get through these first three games in five days, which is going to be hard for my team. Just so you know, we scrimmaged yesterday and I came home smiling. I told my wife. She said, 'Wow, was it good?' I said, 'It was our worst scrimmage since I've been the coach here.' I've got both feet and hands on the panic button right now. I'm just hoping that they needed to play against somebody else and they just got tired of each other. Because if not, I'm going to have to be the most patient soul on the earth when we start the season like 0-6. 'Just be patient.'"
#3 -The UofL men host Evansville on Wednesday at 4 p.m. Evansville is 6-23 since beating #1 UK 67-64 on November 12, 2019. The Purple Aces have lost 19 in a row.
#4 - The graduate assistants and support staff guys on the UofL football staff have gotten a workout over the last week. The ACC has changed UofL's football schedule three times. Their game against Wake Forest was moved from December 5 to November 28. Then Wake Forest had a COVID scare, and had to postpone a game against Duke last weekend. Now UofL will visit Boston College on Saturday, the same Boston College they were originally scheduled to visit at 12 p.m. on Friday. At least they'll be home for Thanksgiving.
"Yeah, it's not ideal. We changed the schedule three times last week I think, from playing on Friday night at Boston College, to playing Wake Forest on Saturday, and now playing Boston College on a Saturday, and Wake gets kicked all the way back to December 19th. It is certainly not ideal to have a three-week layoff. I don't really fully understand how and why we got to this point, but obviously I had no control over that, so it is what it is. We will make the most out of it," UofL head coach Scott Satterfield said.
#5 - After an emotional week that included celebrating the life of former UK offensive lineman and offensive line coach John Schlarman, the Cats were understandably not competitive at #1 Alabama. The problem is, up next is #6 Florida. Gators quarterback Kyle Trask is in the Heisman Trophy conversation. He got his first meaningful playing time off the bench in leading Florida back to beat UK last season.
"Just a guy that is getting more and more comfortable with reps. I knew watching him last year against us that he was a special talent. He certainly has gotten better with every opportunity. He is really, really confident, what he is doing and how he is throwing the ball. He has a lot of weapons to get the ball to. He is playing at a really high level," UK head coach Mark Stoops said.
#6 - I'll compare it to UofL's 41-38 loss at #3 Miami in 2004. A loss, but a statement that the Cards could play with the big boys. That's the message IU sent on Saturday. The Hoosiers gave #3 Ohio State a scare in a 42-35 loss.
"Did not play four quarters of our best football and cannot do that against a team of Ohio State's caliber and talent and coaching, all that included. So, we are really proud of our football team for the fight. The character that they showed to get down like that and to just keep fighting back. Even though we had every reason not to, just really feel like that is a sign of a program that is beginning to change and at the core of who you are, it is your foundation. And so, obviously got to do a better job of not putting ourselves in that position," IU head coach Tom Allen said on Monday.
#7 - Archie Miller and the IU men's basketball team tip off the season on Wednesday at 8 p.m. hosting Tennessee Tech.
#8- Congrats to former Card Donovan Mitchell. A max contract with the Utah Jazz. Let these numbers sink in, a five-year worth up to $195 million. Wow! Much deserved.
#9 - Joe Burrow has been impressive as a rookie in Cincinnati. Hopefully he'll get back to full strength and be ready for the 2021 season.
#10 - Congrats to Shepherdsville's Tommy Williams. He won the Basspro.com Bassmaster Central Open on Lewisville Lake in Texas over the weekend.
Copyright 2020 WAVE 3 News. All rights reserved.