'It's time to come home': Kentucky Afghan, Iraq war veterans react to U.S. troop withdrawal
Published: Apr. 15, 2021 at 12:57 AM EDT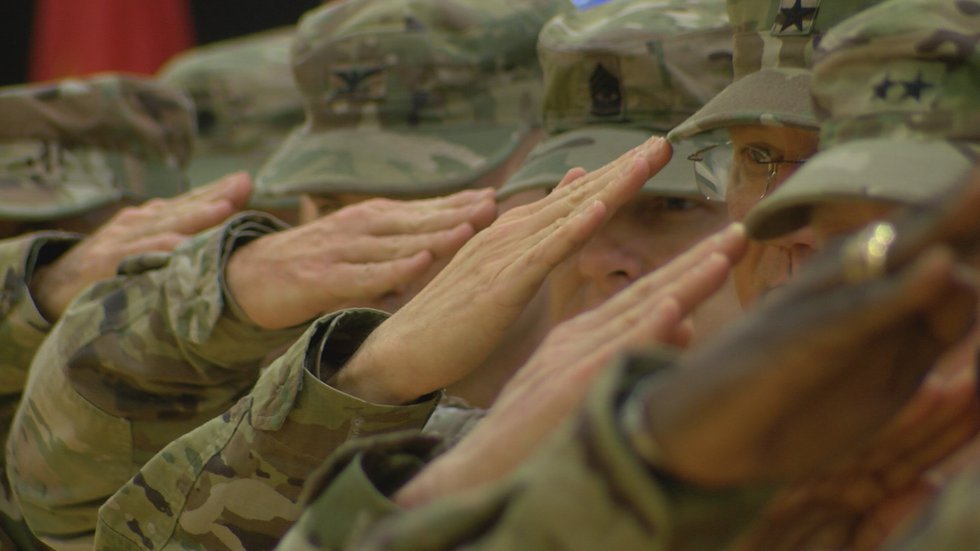 LOUISVILLE, Ky. (WAVE) - For nearly 20 years, American troops have had boots on the ground in Afghanistan. In less than five months, the remaining troops there will return home, according to President Joe Biden.
President Biden announced Wednesday he will withdraw the 2,500 remaining United States troops from the war in Afghanistan by this Sept. 11., the day that marks 20 years since the New York City terror attacks that started our nation's longest war.
Elizabethtown native and Army veteran Christopher Watts fought in the wars in Iraq and Afghanistan. He served in the Army from 2005 to 2009 with a tour in Iraq. He later joined the reserves, where he did a tour in Afghanistan.
Years later he would return to Afghanistan as a civilian security contractor.
"Going into it, there was a lot of stuff happening," Watts said.
He said terrorist groups were constantly trying to get into their bases.
"To have that as a nightly thing, incoming fire, hearing gunshots on the outside of the perimeter and stuff like that, that was like crazy to get used to," Watts recalled.
He said eventually, he became numb to it, and over time, he started to anticipate when attacks may happen, based on different seasons.
"The longer you're over there you can start to just plan for the bigger attacks," he said, "and then all the little ones that happen around, like I said, you just get numb to it, because it's either super close and you know where it's at or it's just [that] you hear it in a distance."
Watts said while the wars in Iraq and Afghanistan were separate, there were a lot of similarities.
"The only difference is the scenery. The people were the same. They all acted the same: groups of people all sitting around watching you as you drive by, watching you as you move because you know they are taking notes too," Watts said. "Everywhere you go there's always somebody watching you just don't know who it is, you know what I mean? I'd say the only difference is just the scenery. From one, it was major countries, and now it's just cities."
After Biden's announcement Wednesday to withdraw troops from Afghanistan by September, Watts told WAVE 3 News he's glad it's happening.
"Yes it's about time because being over there on the uniform side and then the civilian side, I personally think there's been a lot of waste," Watts said. "I understand there's a bigger picture that's way above my head that's happening, but there are puzzle pieces I feel like we're just put in there just to be there, especially on the contract side."
Watts said for troops to be over there for so long, he's curious to see how things pan out economically for them. He said during his time as a contractor, he got to know people in the population he was working with and got more accustomed to the Afghan culture.
"We've been putting money into these countries since day one, but it's just now how are we putting money into the countries? How is it being spent?" Watts said. "I wonder how it's going to play out economically and stuff for them because now they won't be getting the money. They're just like us, they get accustomed to a certain way."
He believes there will be some backlash, but he's curious to see how Afghanistan reacts.
"Are they going to lose their country to the opposition or are they going to be able to sustain themselves and actually apply what we've been teaching them over the last couple years? It will definitely say a lot about them once we're out," Watts said.
Watts said he's also concerned about the economy in the U.S. and what happens when the troops come home, specifically regarding jobs and whether bases across the country will fill back up.
Veterans Club Founder and CEO Jeremy Harrell, an Army veteran who served in Iraq, said he's glad troops will be returning home and won't have to return to Afghanistan.
"I think that's a really good idea. I think that I'm glad President Biden is keeping President Trump's idea to bring troops home and to get folks out of Afghanistan."
Harrell said 20 years in Afghanistan is too long and he doesn't understand why American troops have stayed there for nearly two decades.
"These endless wars, these forever wars, don't make sense," Harrell said. "That's not the way the military is trained. We're trained to go in to do what we have to do to preserve our freedoms and once that's accomplished, once we feel like we've protected our country and our people, it's time to come back home. And that wasn't the case in either [Afghanistan or Iraq] wars but specifically Afghanistan. Like if someone walked up to me today and said, 'Jeremy, why do you think there are still troops in Afghanistan in 2021?' I'd say I have no idea. There's 2,500 there. I know that, but 2,500 — that's not going to stop the Taliban anyway."
Harrell says while he's glad troops will return home, he's not sure why they set 9/11 as the deadline date. He feels it's insensitive.
"We don't want anybody to glorify that date and also I think that's a security issue for those that you're pulling out to give a date. You know it should be something that should just fly under the radar, and get folks out," Harrell said.
The "forever war" in Afghanistan killed more than 2,200 U.S. troops, wounded 20,000, and cost about $1 trillion. Harrell said he's hoping some of the money spent in Afghanistan can be used to help troops who served.
"Some of that money that we've been spending in Afghanistan, we need to put it in and invest in the veterans who come back from there; the veterans who struggle with their experiences in Afghanistan and Iraq and anywhere they experienced violence," Harrell said. "We need to put some resources into that. We pay a lot of money upfront to send vets, but not a whole lot of money spent when [troops] come home to help enhance their life."
While Harrell agrees 20 years is too long, he said it's not the U.S. military's responsibility to secure and police the world.
"It's time to come home," he said.
Copyright 2021 WAVE 3 News. All rights reserved.