Surprise celebrates assistant principals' achievements
Updated: May. 25, 2021 at 12:45 PM EDT
LOUISVILLE, Ky. (WAVE) - What they thought was a photoshoot turned into a celebration for a pair of assistant principals.
Johnson Middle School assistant Principals Casandra Woods and Rajwinder Kaur are graduating from the University of Louisville with doctorate degrees.
On Tuesday, students lined the halls of the school to cheer on the women as they thought they were making their way to a photoshoot.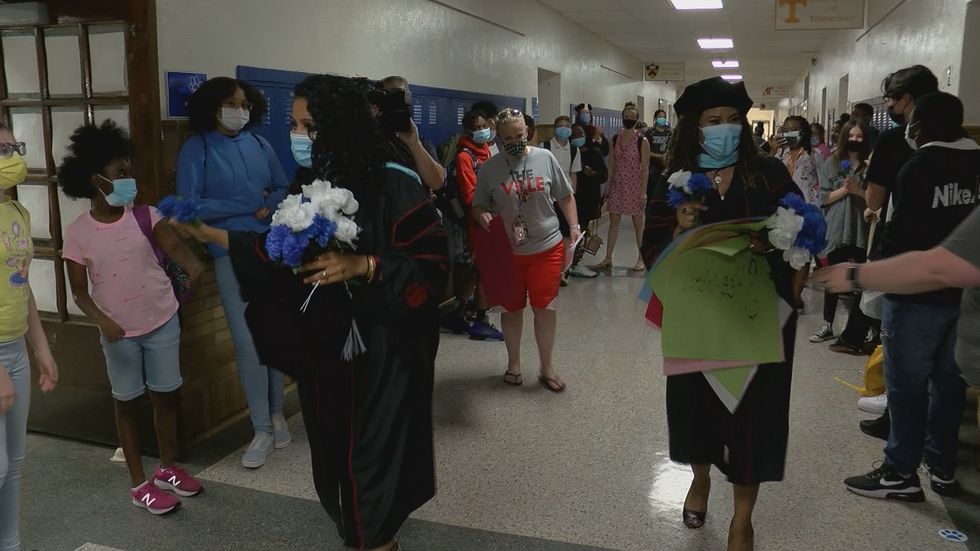 Woods and Kaur didn't plan to go back to school at the same time to get their doctoral degrees. However, it happened and their school family was more than proud.
"I grew up, up the street," Woods said. "And I'm a product of Jefferson County Public Schools, and I knew if someone believed in me and if I got a chance. I could show the world just how amazing I am."
The neighborhood children are now her students. Seventh graders Rylee Clark and Keiary Franklin said they look up to Woods and Kaur.
"It made me feel like I can be like them one day," Franklin said.
Woods now has a doctorate of education and educational leadership and organizational development from UofL.
"It gave me motivation to know someone who grew up in this community and came to JCPS schools," Clark said. "It shows that I can do that too."
Kaur said life wasn't always easy, as the child of an undocumented immigrant. Her father always pushed the importance of school.
"He said you just have to stick through it," Kaur said. "It sucks now but your education is the one thing nobody can take from you."
The doctors hope their tassels remind students the same resilience they use to get through personal struggles is the same strength that will move them forward and to the next level.
"I want kids to know they have everything they need already in them," Woods said.
Both doctors said going back to school wasn't easy but they pushed themselves because they wouldn't ask their students to do something they wouldn't do.
Copyright 2021 WAVE 3 News. All rights reserved.