Louisville summer camps seeing increased interest as pandemic wanes
Published: May. 27, 2021 at 10:34 PM EDT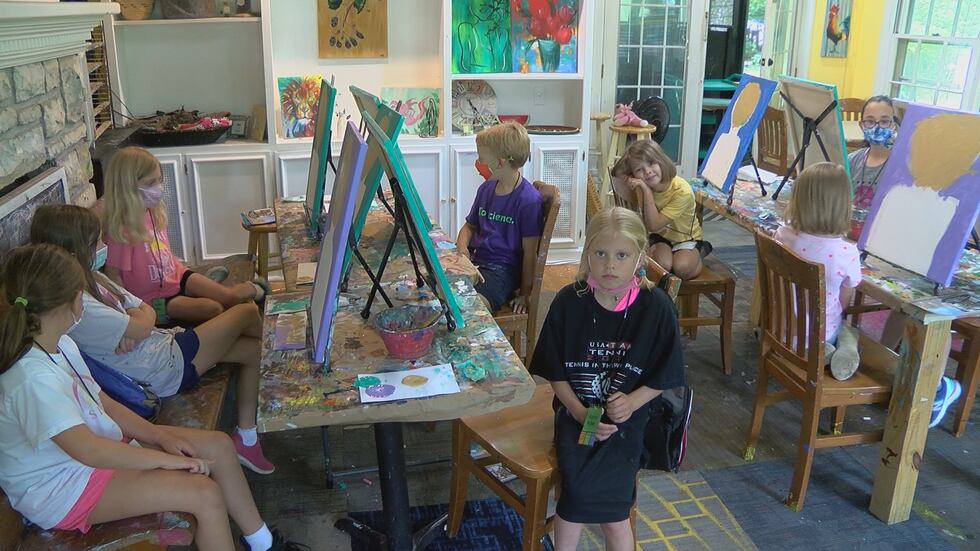 LOUISVILLE, Ky. (WAVE) - For some, school is already out and the countdown to camp is on.
Right now, many families looking for a return to normal already have their plans made, as different summer programs are filling up.
With large paintbrushes at the door and a check-in sign made of canvass, it's not surprising that what's happening at the Whet Your Palette summer camp is all about creativity.
"This is our wreath, our music wreath," Judith Zinner, who owns the drop-in studio, said, describing a recent project. "Then this painting is a landscape. We're studying Thomas Cole and he did landscapes."
Starting this week, the Anchorage-based shop is kicking off its series of summer camps, which will run through mid-August.
"We've been painting a lot of pictures, and just really having a lot of fun and playing a lot of games and stuff," Emerson Gallahue, a camper, explained.
For some attending the program, it may be a rich source of social interaction after a year of interruptions at school.
Those 11 and under are not yet old enough to be vaccinated. So, many COVID precautions are still being taken at various places across WAVE Country.
"We do a lot outside if we can," Zinner said. "We also have the doors and windows open all the time. We do try to follow some of the protocol with the children, but we also leave a lot of that up to the parents."
At Whet Your Palette, instructors also contribute to that pandemic planning.
"Pretty much all of our teachers are vaccinated," Zinner added. "So, you can know that going in."
In Kentucky and Indiana, summer camp websites show some places are beginning to book up or have waitlists.
"The interest we're having, of course, 2020 was a little strange, we did have camp, but I was looking at our numbers, and we're up a little over 60 percent compared to 2019," Zinner said.
Despite that, she adds the Whet Your Palette still has availability.
Copyright 2021 WAVE 3 News. All rights reserved.