7 students won't graduate with classmates at Clarksville HS Friday because of water balloons, water guns, school confirms
Updated: May. 28, 2021 at 12:07 AM EDT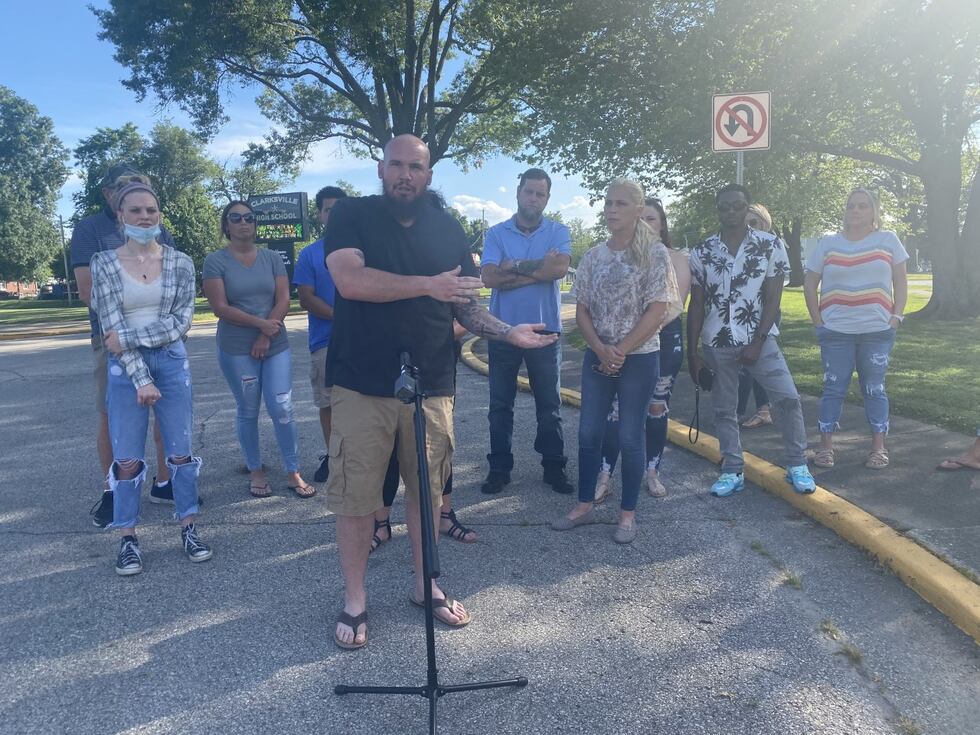 CLARKSVILLE, Ind. (WAVE) - Parents of several high school seniors say their kids will not be allowed to walk across the stage for their commencement ceremony Friday.
Staci Stewart, a parent of one of the students at Clarksville High School, told WAVE 3 News on Thursday that during this week's senior festivities, her son and several others participated in a fight involving water balloons and water guns.
A school spokesperson confirmed to WAVE 3 News on Thursday that seven students will not be allowed to graduate with their fellow seniors Friday.
"There was an incident Wednesday morning involving multiple students using water guns and water balloons inside Clarksville High School," the spokesperson told WAVE 3 News. "One student did slip and fall during the incident."
The severity of that student's injuries was not known, but parents told WAVE 3 News that the student was uninjured. They said the student was also involved in the water fight and is part of the group who will not be able to walk at graduation.
Stewart said the students were told by a school counselor they were allowed to have water balloons and water guns during their senior day activities, but the school's spokesperson told WAVE 3 News she was not aware of that ruling.
Several parents spoke to WAVE 3 News Thursday afternoon, expressing their disappointment and heartbreak.
"This is our baby, this is the final one," Stewart said. "He's been through enough with COVID."
Stewart said her son, Sam, was captain of the football team for two years and was Homecoming king. She said he has never been in trouble, adding that teachers have always said he was a pleasure to have in class.
"My son has struggled this entire year with school and all that would keep him going was knowing that he was going to walk across that stage and receive his diploma," Stewart said.
She said over the past few weeks, Sam has been practicing his walk across the stage and how he will receive the diploma. On Wednesday night, he picked up his preschool graduation photo and showed it to his mom.
"He said I thought I would be able to put my senior graduation picture next to my preschool graduation picture but I guess that's not going to happen now," Stewart said. "So everything that kept him going, the thought of, 'I'm going to walk across the stage and I'm going to be recognized for the hard work I've been putting into the last 12 years of his life,' is now being taken away from him."
Her husband, Steven, said he was growing concerned over his son and other students' mental health during the last 14 months, because of all the changes and uncertainties with COVID-19.
"It was a hard year between remote learning sometimes you come to school sometimes you didn't," Steven said. "Sports kept them motivated, kept their grades up, kept them in good standing with teachers and principals and everything. We did the best we could at home to keep the morale up."
He said the water fight was "a few minutes of fun, maybe at the wrong time, but innocent fun."
"I'm afraid of what it's gonna do to their mental health even worse than the pandemic did, now saying that this minor incident is going to keep you from walking across with all your friends, all the ones you've gone through 12 years of school with," Steven said. "Last year I had a daughter that was supposed to graduate. COVID stole that from us. This year I feel that the Clarksville High School is stealing my baby's graduation."
Parents told WAVE 3 News their children were sent home Wednesday afternoon after the water fight incident, missing out on their senior picnic and senior video. Stewart said a school administrator did not tell her that graduation was in jeopardy.
"These were his exact words: his punishment is he is being sent home for the day and he will miss the rest of his senior activities. That's all I was told," Stewart told WAVE 3 News.
Another parent, Andre Jones, expressed he was heartbroken by the situation.
"We've put our heart and souls into our kids getting to this day," Jones said. His child is one of the seven who will not be allowed to walk at graduation. "We want the school to change their minds. That's all we're asking."
Multiple parents told WAVE 3 News they understand punishing the students by making them leave after the incident, but they don't understand why the school is going so far as to not allow them to walk at graduation.
"This isn't something that only lasts for a day or two weeks or anything. This is a lifetime of hurt," Jones said. "It's tragic that you all would make a decision like this."
Karen Hattabaugh, a mother of one of the senior's not allowed to walk at graduation, said the students are mortified they won't be able to walk with their classmates.
"[It was] water. It was a decision amongst most of the senior class, unfortunately, our seven were the ones who kind of lead that," Hattabaugh said.
She said she loves the school and many of the parents are also alumni of the school.
"We'd love to witness our children walking across the same stage that we walked across," Hattabaugh said. "That's punishment enough yesterday missing the senior activities. Let these boys walk, please. These parents are pleading, I'm pleading, (my) family is pleading. Let our boys walk, please?"
Copyright 2021 WAVE 3 News. All rights reserved.