Former LMPD chief says 'visibly shaking' Hankison didn't follow protocol after Breonna Taylor raid
Published: Feb. 24, 2022 at 6:51 PM EST
LOUISVILLE, Ky. (WAVE) - Brett Hankison's behavior on the night of the police raid where Breonna Taylor was killed stood out to the former Louisville Metro Police chief.
Steve Conrad, the police chief at the time of the March 2020 raid, testified on Thursday during Hankison's trial. Hankison is the former LMPD officer charged with three counts of wanton endangerment after allegedly shooting through Taylor's apartment and into her neighbors'.
Conrad described how he learned about the officer-involved shooting. He said that he immediately went to the University of Louisville hospital to check on Sgt. John Mattingly, who had been shot during the raid by Taylor's boyfriend, Kenneth Walker.
The former chief said he noticed Hankison at the hospital and that it stood out to him because he was not escorted by a member of the LMPD's peer support group, which is a volunteer officer group that assists officers following serious incidents such as officer-involved shootings. He also claimed that Hankison did not immediately report to the Public Integrity Unit, as is standard procedure.
Conrad then described his encounter with Hankison at the hospital.
"I noticed Hankison was visibly shaking, as if he was upset or very nervous," he said.
Hankison's lawyer, Stewart Matthews, asked Conrad if seeing Hankison at the hospital was unusual.
"The only thing I found unusual was he was not escorted by someone from the peer support team," Conrad said.
(Story continues below photo)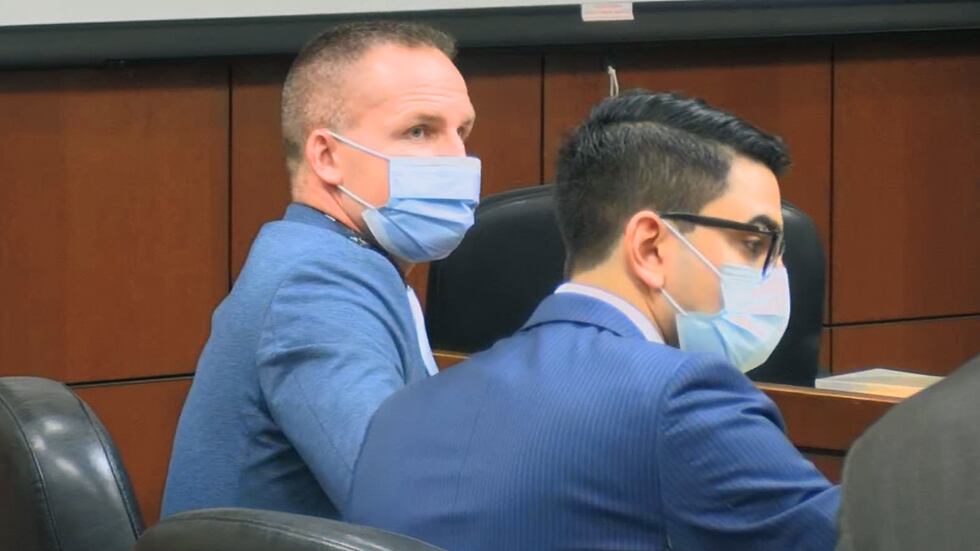 Prosecutors with the Kentucky attorney general's office claimed that because Hankison fired his weapon, he did not follow protocol regarding who he should have reported to immediately after the raid. Prosecutors were also trying to persuade the jury that Hankison was a danger to the three people who live in the apartment next door.
Jurors saw evidence such as bullets and casings discovered at the scene, as well as Hankison's taped interview with the LMPD Public Integrity Unit following the raid, as well as his gun, on Thursday. Prosecutors focused on evidence found by police that contradicted Hankison's statements to investigators.
Hankison said in his taped statement on the night of the raid that he thought there was someone with an AR-15-style long gun shooting at officers in Taylor's apartment.
"I thought they were being executed," he said. "... The gunfire intensified. I was under the impression they were all getting sprayed with bullets."
Hankison then said he ran around the corner and fired toward the muzzle flashes through Taylor's apartment's side patio door.
Prosecutors, on the other hand, presented evidence that there was no AR-15 at the scene. Jurors were shown video footage of LMPD SWAT officers guarding Hankison's apartment when he entered the crime scene, telling Hankison to leave until PIU investigators arrived. He also told Hankison that no long guns had been found in Taylor's apartment.
During opening statements on Thursday, prosecutors told jurors that a neighbor who lived upstairs from Taylor would testify about Hankison's behavior prior to the shooting. During his testimony, the neighbor, however, said when officers asked him to go inside before the raid, he did so and only heard gunshots.
Hankison is the only officer who was charged in the Breonna Taylor case.
Copyright 2022 WAVE. All rights reserved.