Gov. Beshear to give State of the Commonwealth address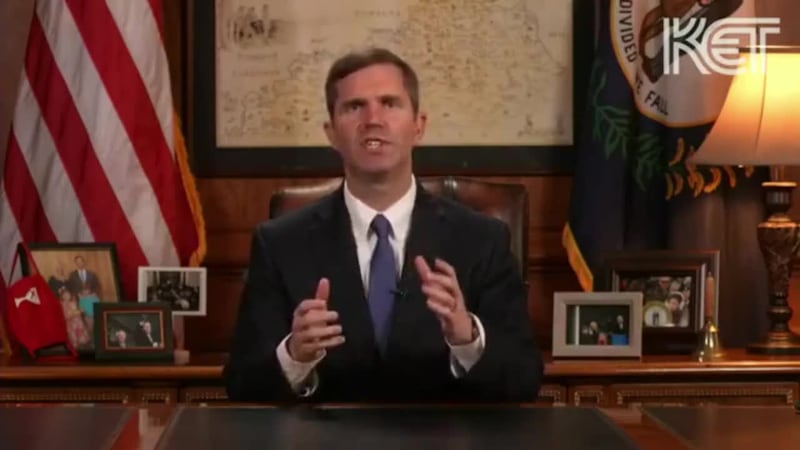 Published: Jan. 4, 2023 at 6:17 PM EST
LOUISVILLE, Ky. (WAVE) - On Wednesday, Ky. Gov. Andy Beshear presented his 2023 State of the Commonwealth address before the House and Senate.
Beshear discussed hardships faced by the state, including tornadoes, flooding and COVID-19, as well as addressing inflation and Kentucky's future as an economic leader.
"Let's make Kentucky a shining example of how to treat educators and our public school systems," Beshear said.
To further build a safer commonwealth, Beshear is currently implementing the most significant reforms to Kentucky's juvenile justice system in 20 years, according to a release.
To build on these efforts, and to better protect both workers and youth in these facilities, the Governor is calling on the General Assembly to help fund higher salaries, upgrades in facilities and for necessary changes to state law.
"If we double down right now. Lead with our values and put politics aside, there is nothing that we cannot achieve. Our future is brighter than it's ever been," Beshear said.
Throughout his address, the Governor highlighted the successes and challenges of 2022 and the stories of several Kentuckians he invited to attend.
"We want the people of Eastern Kentucky to know that we love you, we care about you and we're going to be there for you every step of the way, as long as it takes," Beshear said. "For those in the West affected by the tornadoes, we know there is much work left to be done. We remain committed, and we look forward to celebrating each milestone with you."
During his speech, the Governor also called on Kentuckians to never forget the law enforcement officers lost in the line of duty.
"Let us always remember their sacrifices and continue to support these families," Beshear said. "To our law enforcement community, we love you, we support you and we need you."
Copyright 2023 WAVE. All rights reserved.