Ky. governor candidate faces criticism after claiming Damar Hamlin died in YouTube video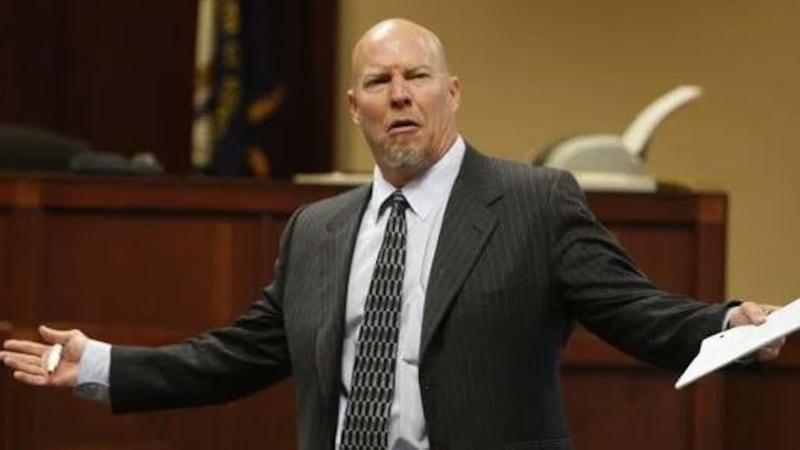 Published: Jan. 5, 2023 at 5:36 PM EST
LOUISVILLE, Ky. (WAVE) - A Kentucky republican gubernatorial candidate is facing criticism after posting a tirade video on his YouTube channel claiming Buffalo Bills' safety Damar Hamlin had died, according to his sources.
Attorney Eric Deters announced he had filed paperwork on Tuesday to run as republican candidate for governor in Kentucky.
On the same day, Deters posted a video on his YouTube channel commenting on the the Bills-Bengals game on Monday evening where Hamlin went into cardiac arrest during the first quarter after making a tackle.
Deters claimed in the video that doctors and nurses inside the University of Cincinnati Hospital told him that Hamlin had died, a claim which has since proven untrue in recent reports.
"He isn't coming back," Deters said in Tuesday's video. "And you know what, you say, 'Well, that's not your place.' Yes it is my place, to report that to you and be honest with you. The NFL, who gives us kneeling for the Star-Spangled Banner, the National Anthem, until they knew it hurt them. Who gave millions to Black Lives Matter to burn down our cities. Who is a woke organization. Control freaks."
On Thursday, the medical team with the University of Cincinnati Medical Center said Hamlin is awake and able to communicate with written messages.
The medical team said the first question Hamlin asked from his ICU bed was "who won the game?"
Deters claimed on Tuesday that news organizations were lying about Hamlin's status.
(Story continues below)
"All the local news, all the national news know the truth," Deters said. "That [Hamlin] is lying in a hospital on life support and he isn't coming back. And for them to lie to you, University (of Cincinnati) doesn't come out and tell you the truth, silence. Silence. The statement put out by the family, did they tell you the truth? Nope."
As more information was shared by officials in the following days, Deters released a statement claiming people were upset with sharing what his source had told him.
In his statement, he said he is glad to see Hamlin making progress, but went on to share his distrust of local media, the NFL and COVID vaccines, which have since had many unfounded claims of their safety following Hamlin's collapse.
Cardiac specialists have said while it's too soon to know exactly what happened that caused Hamlin's heart to stop, they believe it could be due to a rare type of trauma called commotio cordis.
Read Deters' full statement below:
I love to see Damar Hamlin is making positive progress. He needed a miracle and he is getting one.

Those of you with anger towards me because I reported what my sources informed me do not phase me. Your anger is misplaced. He died. They resuscitated him. Uncle said twice. Agent said once. Someone I trust told me he was brain dead. I am so glad he isn't. I do not trust the Cincy media. I do not trust the NFL. I do not trust Pfizer. And while I admire their trauma unit I do not trust University and all the hospitals and their corporate healthcare. Their forcing workers to choose between their careers and taking a vax shot was evil. I stand by my sources. If they were wrong, so be it. My reason for reporting it was ONLY to caution everyone about trusting NFL media and University. And as time goes by we will see how the story ends. For Damar I hope it is a full recovery. All of you who think HIPAA laws were violated are wrong. Those of you who think what I said was defamatory is wrong. I apologize my sources got it wrong and I reported it. BUT that doesn't change my opinion about the NFL University and the Media. It is wrong and sick for some you to take what i reported as some desire that he was dead. I am so happy he is not.

I will continue to be a source and platform for all of us who are not sheep for what " they " tell us. I am and will remain an independent voice.

What caused this tragedy?

The vax?

My doctor source said as a twice resuscitated cardiac arrest patient Damar has beat amazingly bad odds. Damar has been blessed by God. That is something to be celebrated and I do.

I prayed for Damar. I rooted for Damar.

I have spent and spend my entire life fighting for people and will continue to do so.

The fact my source ended up being wrong in a very cynical situation changes none of that.

I do not and will not tolerate those of you with your agendas attacking me.

I also stand by my position it is wrong how everyone treats this vs all those who are crime victims and suffer and no one cares. Media distorts life covering celebrity. They cover this like they do and not others.

I am so blessed all my friends, supporters and fans know what I am all about including my heart.
Deters is one of 11 Republicans seeking nomination in the gubernatorial GOP primary set for May 16.
Copyright 2023 WAVE. All rights reserved.