Lanesville School District addresses sexual harassment allegations
Published: Jan. 11, 2023 at 12:02 AM EST
LOUISVILLE, Ky. (WAVE) - The Lanesville School District addressed the allegations against two student-athletes accused of sexually harassing their teammates on the basketball team.
Last month, the two boys were charged with sexual battery and harassment by the Harrison County Sheriff's Office.
The district hadn't made a public statement until this week.
"The two accused individuals are permanently removed from the basketball program and are not present at the school or any school event," said Lanesville Superintendent Steve Morris.
Morris read from a statement to a room full of parents, students, and community members.
(Story continues below)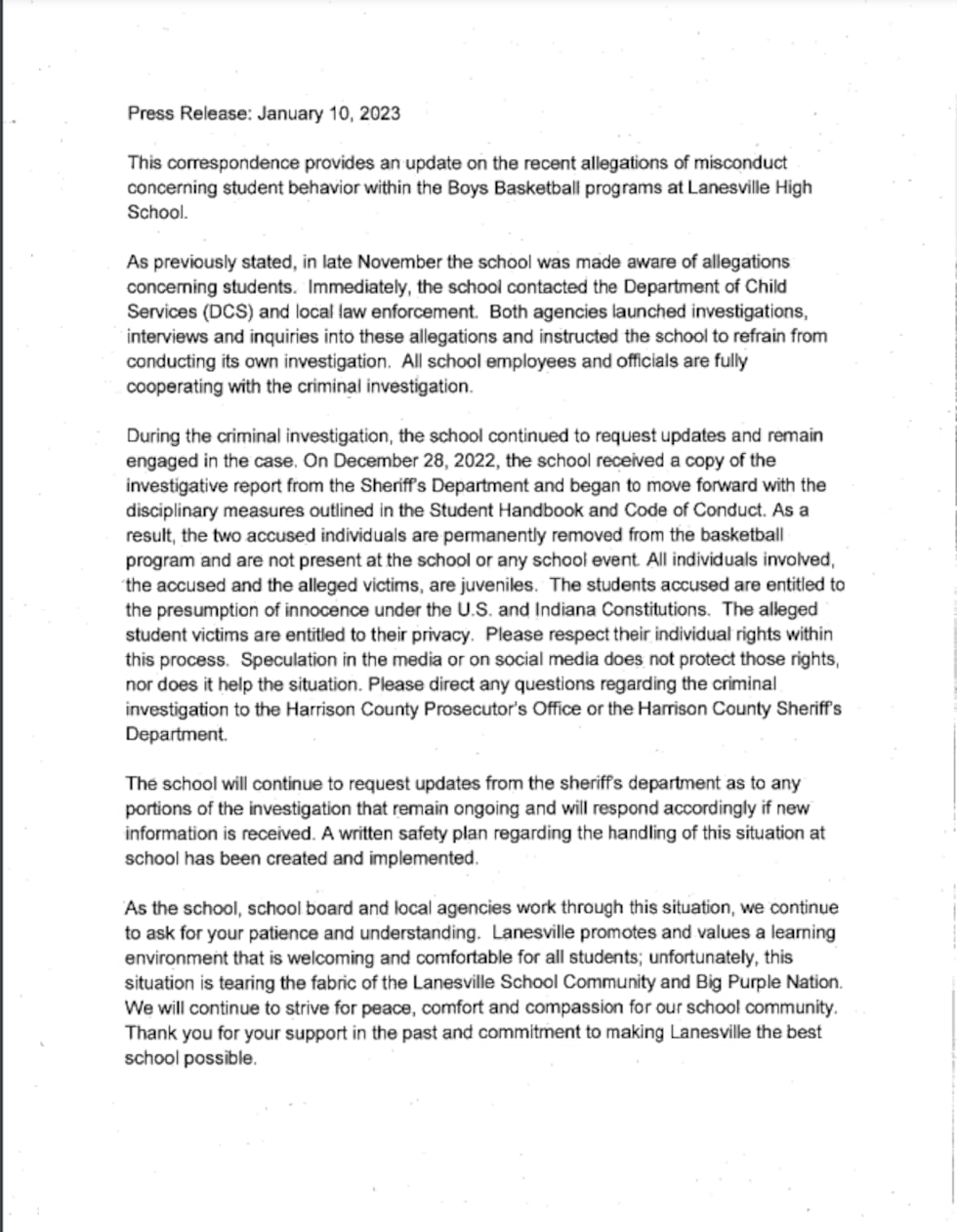 The statement says both the Department of Child Services and law enforcement told the school to not conduct its own investigation.
"We thank him for putting a lot of things on the record that will make it easier for us to address the claims we're going to make," said attorney Larry Wilder.
Larry Wilder is representing the families of the boys that were allegedly sexually harassed in a lawsuit against the district and boys basketball coach Mikel Miller.
In the meeting, Morris announced Miller will resign at the end of the season.
It's a move that attorney Larry Wilder calls a half measure.
"What we heard tonight was that a man that couldn't a man that couldn't maintain the safety of these young men, is going to stay for the rest of the year," Wilder said.
Wilder calls the resignation an admission.
"That it's pretty clear that these young men are not fabricating, making up, or embellishing," said Wilder.
In the meeting only one person publicly spoke, Assistant basketball coach Matthew Beckman
"I'm standing here today, not to just speak on the positive impact coach Miller has had in my life, but also bring light to something bigger than this situation and the possible decisions that might come of it," said Beckman.
Beckman's positive words towards Miller was met with applause from much of the crowd.
"Over the last 54 years of Lanesville basketball we've had three coaches. And Mikel has been here the last 23," Morris said.
One parent told me that with Miller still coaching until the end of the year, they're thinking hard about pulling their kids from the team.
Copyright 2023 WAVE. All rights reserved.