Indiana Supreme Court hears arguments on abortion ban injunction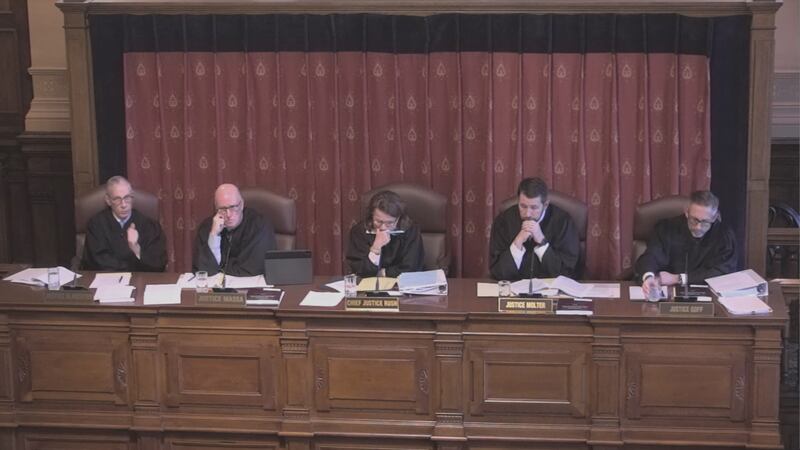 Updated: Jan. 19, 2023 at 6:20 PM EST
INDIANAPOLIS (WNDU) -The future of abortion care in Indiana is uncertain.
Thursday, Indiana's Supreme Court heard arguments for the first time on the state's near-total abortion ban.
In the state's argument in favor of the ban, they say it will likely require a ruling from the Indiana Supreme Court on whether a woman has a right to an abortion under the state's constitution.
Arguments against the abortion ban say the constitution already protects that right in Article 1 Section 1. Let's take a closer look at what that means.
It's the first line you'll come across in the Indiana Bill of Rights declaring that "all people are created equal, that they are endowed by their creator with certain unalienable rights, that among these are life, liberty and the pursuit of happiness..."
ACLU for Indiana Legal Director and attorney on this case Ken Falk argued that the right to liberty is being violated by Indiana's abortion ban.
"Within Article 1 Section 1 an interest in autonomy and privacy that protects a woman's right to obtain abortion, subject to legislation which may tailor that right provided that there remains… a meaningful opportunity to obtain an abortion," Falk said.
The state's ban outlaws all abortions, but allows exceptions in cases of rape and incest before 10 weeks after conception and to protect the life and physical health of the mother. It also revoked licenses for all of the state's abortion clinics.
Falk argues those exceptions do not provide a meaningful opportunity for abortion.
Indiana State Solicitor General Tom Fisher says Article 1 section 1 doesn't protect any specific rights. He says a judgment from the Indiana Supreme Court on whether or not abortion is a constitutional right will settle any arguments.
"The end-of-scene issue to the preliminary injunction is whether there's a right to an abortion under the Indiana Constitution. There's no way to confront the preliminary injunction without confronting that question," Fisher said.
The closest the state's been to confronting that question was in 2004 when an appeals court ruled that the right to privacy is a core value that extends to all residents, including women seeking an abortion.
Arguments against the ban leaned heavily on this precedent that puts limits on government involvement in private, personal decisions like having children.
"What would the founders have said if there was another law burdening reproduction: Hoosier women can not have more than 2 children. Given their thoughts and expressions on liberty, that would seem to clearly violate a liberty interest. And if that clearly violates a liberty interest, then bringing us up to the modern day, we're talking about the same liberty interest in regards to abortion," Falk said.
The state rebuttaled by saying that part of the constitution doesn't guarantee anything specific.
"Abortion is not a modern manifestation of liberty. Abortion is something that's been around since humanity. The framers of the Indiana Constitution were well aware of abortion. They outlawed it before, during, and after the period of adoption. This is not a new scenario. This is something that's well covered and understood historically," Fisher said.
The Indiana Supreme Court later upheld a law requiring an 18-hour waiting period before a woman could get an abortion, which has been viewed as providing an additional burden on those seeking out the procedure.
Currently, abortion clinics are able to provide abortions up to 20 weeks into a woman's pregnancy because of the injunction issued by a county judge. It also reinstated licenses for clinics providing abortion services.
It's unclear when the court will issue an opinion after Thursday's hearing. The Chief Justice says it will come "in due course".
Copyright 2023 WNDU. All rights reserved.