Kentucky Humane Society: meet Nakey Jakey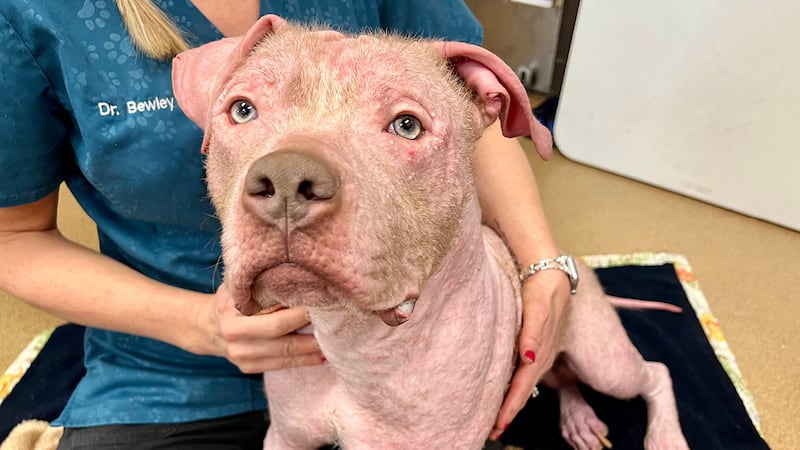 Published: Feb. 4, 2023 at 4:25 PM EST
LOUISVILLE, Ky. (WAVE) - On Tuesday, the Kentucky Human Society said they took in a Terrier mix whose condition is heartbreaking.
KHS said severe disease and infections have left his skin so raw and inflamed that he is covered in sores, with barely a strand of fur left on his body. They also said his skin was so painful when he arrived that they couldn't pet or hold him to comfort him.
According to the release, his front legs have been deformed by carpal hyperextension, which was likely cause by long-term malnutrition, and his nails were some of the longest they have ever seen.
KHS said they don't know what happened to him, but his condition is similar to what they have seen in animals who have been confined for most of their lives.
Despite all he's been through, KHS said he is sweet, a little goofy and gentle.
They named him Jakey, but are affectionately calling him Nakey Jakey.
According to the release, a vet team is treating Jakey's skin infections and making sure he is getting all the nutrition he needs.
KHS said they are already beginning to see some fur come in, and once the infections are under control they will post more updates.
To follow Jakey's progress on the Kentucky Humane Society's Facebook page, click or tap here.
For more information on how to donate, click or tap here.
Copyright 2023 WAVE. All rights reserved.