LG&E crews continuing restoration efforts to get power back for thousands of customers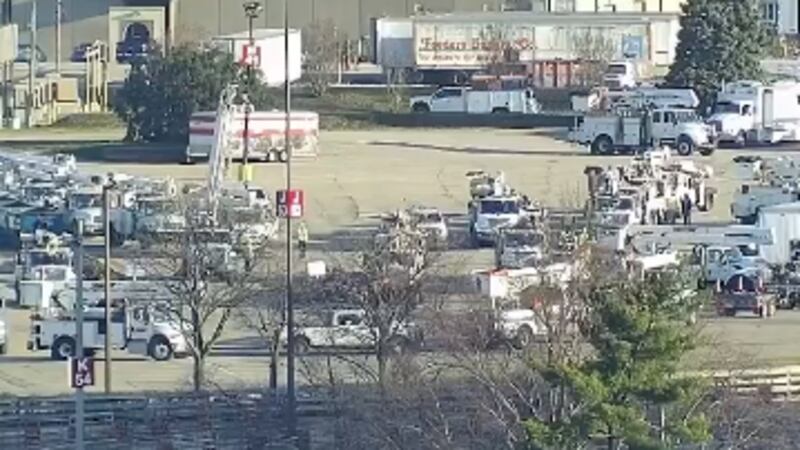 Published: Mar. 6, 2023 at 9:11 AM EST
LOUISVILLE, Ky. (WAVE) - Louisville Gas & Electric crews were getting ready Monday morning to continue working on getting power back for thousands of customers.
After WAVE Country experienced the third-most significant weather event in 20 years during Friday's storm, leaving thousands without power.
This storm impacted more than 300,000 LG&E and KU customers, downed over 2,500 power lines and broke over 250 utility poles.
Now, it's an all-hands-on-deck effort to clean up and restore power.
Most LG&E trucks were out on the roads before 9 a.m. Monday morning.
(Story continues below)
On Sunday, Louisville Gas & Electric reported significant progress, saying 72,000 out of 145,000 impacted customers have had their power restored.
As of Monday afternoon, around 50,000 customers are still without power.
LG&E says they are shooting for power to be fully restored by Wednesday, but that's not a guarantee.
WAVE News spoke with one crew on Walnutwood Way at Locust Avenue in Jeffersontown. In that area alone, they had three poles broken which can take some time to fix.
"Three 50-foot broken poles that weigh about 2,000 pounds a piece," Greg Lindsey with LG&E said. "So they're going to have to dig holes and set those poles in the ground and then put all the wires and infrastructure back on that. So it takes time. It takes time to do that."
LG&E said they have brought in around 1,000 lineman to help complete the job.
Access LG&E's Outage Map by clicking or tapping here.
Copyright 2023 WAVE. All rights reserved.