Ky. governor candidate Eric Deters pleads guilty to menacing, harassment of nephew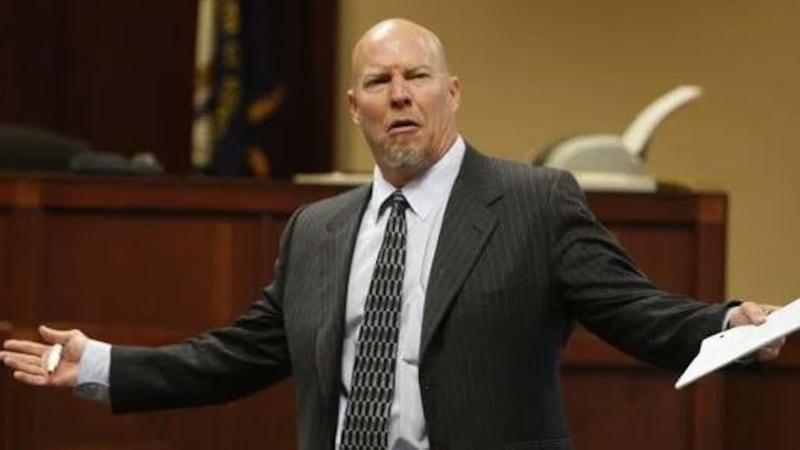 Published: Mar. 9, 2023 at 2:27 PM EST
WALTON, Ky. (WAVE) - Kentucky republican gubernatorial candidate Eric Deters pleaded guilty to three misdemeanor charges after he was accused of chasing his juvenile nephew with a truck and harassing him over the phone.
Deters pleaded guilty on March 8 to charges of menacing, harassing communications and criminal trespassing in Kenton County District Court, according to the Kenton County Attorney's Office.
The court sentenced Deters to 90 days in prison on each count to be run consecutively for a total of 270 days in jail. The sentence was conditionally discharged for the next two years.
The incident happened at Sugar Ridge Farm in Walton, Ky. on Oct. 3, 2022.
According to a criminal complaint against Deters, police were called to the area on reports of a juvenile who had been chased by a vehicle driven by Deters.
The juvenile, who was listed as Deters' nephew, said he had driven to the farm to hunt when he saw Deters near a group of mailboxes.
When the juvenile flipped Deters off, Deters is accused of chasing the juvenile's truck in his own pickup truck down a paved driveway, through the farm, back onto a road and to the gravel parking lot of the farm.
The juvenile told police Deters purposefully drove past security cameras on the property for his own safety.
Deters told police "after he flipped me off, I followed him. The little chickens*** wouldn't get out of his truck."
The complaint said Deters asked police to tell the juvenile "to go f*** himself for me," which the officers declined to do.
He told police the whole purpose of the incident was to scare his nephew, "and I succeeded."
Officers obtained a 47-second voicemail sent to the juvenile's mother using multiple anti-LGBTQ statements and threatening the nephew.
"You tell [him] that Uncle Eric doesn't f***ing play," the voicemail states. "I don't play."
Deters then texted the woman multiple times, also referring to his YouTube channel and to "enjoy my show tomorrow," following up with an image of his nephew in a colorful suit and using an anti-LGBTQ statement.
Police spoke to the owner of the farm, who said Deters had been told two years before that he was not allowed to be at the location.
"The Kenton County Attorney's Office is dedicated to seeking justice on behalf of victims who are wronged by criminal acts, regardless of who the perpetrator is. Mr. Deters' conduct in this case was inappropriate and criminal under Kentucky law," Drew Harris, Chief Prosecutor of the Kenton County Attorney's Office. "We are pleased that justice was served today for the victims involved."
Deters previously faced controversy after posting a tirade video stating Buffalo Bills' safety Damar Hamlin had died following a cardiac arrest in a Jan. 2 game against the Cincinnati Bengals, based on his sources.
The claim had been proven untrue in reports soon following the video, with medical staff continually updating on his condition. Hamlin eventually made an appearance on the field during this year's Super Bowl in Glendale, Arizona.
WAVE News reached out to Deters' campaign team for comment.
Copyright 2023 WAVE. All rights reserved.