'Life-changing': Western Ky. woman wins $50K playing Kentucky Lottery scratch-off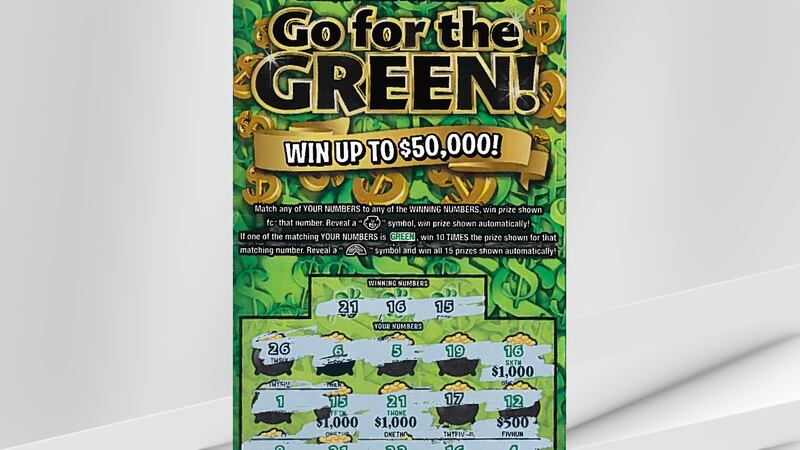 Published: Mar. 17, 2023 at 12:55 PM EDT
LOUISVILLE, Ky. (WAVE) - Just in time for St. Patrick's Day, a Western Kentucky woman decided to "Go for the Green" and won $50,000 off a Kentucky Lottery scratch-off ticket.
A woman from Symsonia, Ky. in Graves County, who wished to remain anonymous, bought a $5 "Go for the Green" ticket from the Kentucky Tobacco Outlet in Paducah last week, according to lottery officials.
She told officials she scratched off the ticket and matched the number 16 in the first row, revealing a $10,000 prize.
After finishing the scratch-off, she noticed she matched four additional numbers and won the game's top prize of $50,000.
"I about fell over," she said.
She scanned the ticket to make sure it was real, officials said.
"And to think this little $5 piece of cardboard paper is worth $50,000," she said.
The woman told officials she was afraid to fall asleep that night, thinking that she would wake up and everything would be a dream.
When the woman received her $35,750 check at Kentucky Lottery headquarters the following day, she knew that it was all real.
"This is life-changing," she said.
Officials said the woman plans to put the winnings toward a down payment on a home and buy a car.
Kentucky Tobacco Outlet will receive $500 for selling the winning ticket.
Copyright 2023 WAVE. All rights reserved.