JCPS recognizes 'Super Seniors' with scholarships, awards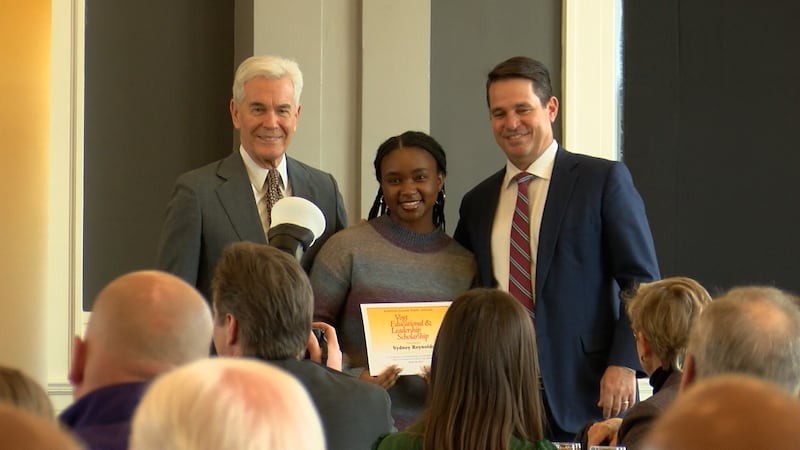 Published: Mar. 20, 2023 at 3:29 PM EDT
LOUISVILLE, Ky. (WAVE) - Several Jefferson County Public School students were recognized for academic achievements and leadership both in and out of the classroom.
A total of 16 seniors were awarded with the 2023 Vogt Educational and Leadership Scholarship at the Olmsted on Monday.
Each student will receive a $12,000 scholarship based on SAT and ACT scores, cumulative GPAs and leadership within their school and the community.
One senior said the award is an opportunity to inspire other students to achieve.
"It doesn't matter where you start at, what matters is what you do to get to your dreams," Hussein Almosawi, senior at Butler Traditional High School said. "You can always put in the effort. I was an immigrant. I wasn't born here. It was pretty hard when I started out. But, I put in appropriate effort, the hard work, and I feel like there is always hope."
The 16 recipients are listed below:
Sydney Reynolds, Atherton High School

Samuel Hatfield, Ballard High School

Hussein Almosawi, Butler Traditional High School

Rikaiya Long, Central High Magnet Career Academy

Ngoc Ho, Doss High School

Bella Tilford, duPont Manual High School

Abby Pearce, Eastern High School

Lauren Kute, Fairdale High School

Lance Bridge, Fern Creek High School

Mahamud Aden, Iroquois High School

Isabel Hargan, Jeffersontown High School

Phoebe Brown, Louisville Male High School

Junjie Lin, Marion C. Moore High School

Jennifer Ferguson, Pleasure Ridge Park High School

Allison Lasley, Southern High School

Emma Deaton, Waggener High School
The scholarship was established by Henry V. Heuser Sr. prior to his death in 1999 to provide scholarships for remarkable JCPS students. More than $2 million has been awarded since the scholarship was created.
Copyright 2023 WAVE. All rights reserved.