Baptist Health celebrates opening of dual ER, urgent care facility in Jeffersontown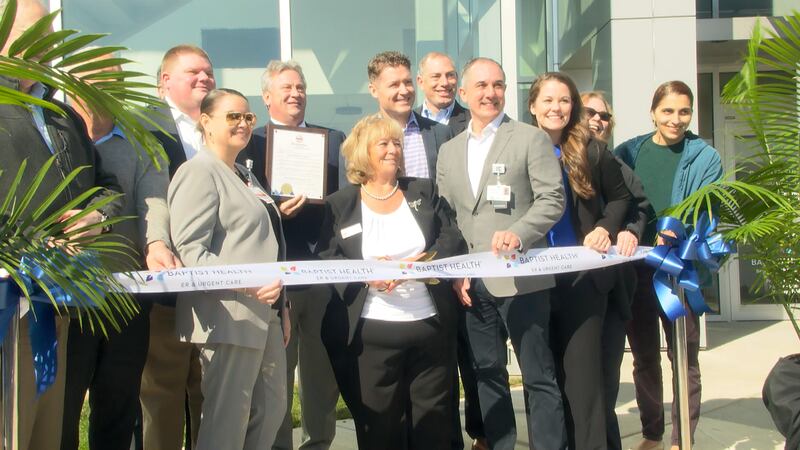 Published: Mar. 30, 2023 at 2:10 PM EDT
LOUISVILLE, Ky. (WAVE) - Baptist Health announced a first-of-its-kind health facility in Kentucky that merges an urgent care facility with a full-service emergency room.
The new Baptist Health ER & Urgent Care Blankenbaker location at 11701 Bluegrass Parkway is set to open on April 3, according to a release.
Health officials said the new facility removes the need for patients to self-diagnose and choose what level of care they need. Every patient will be seen by an on-site ER-trained physician who will determine the level of care needed.
"I'm a family physician, and I can't count the number of times that somebody called me with some kind of problem and I knew, 'Well, the Urgent Care would probably be OK, but there's a chance you're gonna go to the Urgent Care and they're gonna make you wait an hour and a half and immediately send you to the Emergency Department,'" Dr. Jody Prather, Baptist Health Chief Strategy and Marketing Officer said. "And so when we found this model and were able to develop it, I just knew it was gonna be a huge benefit for patients because there's so many time that are like that."
The facility can treat anywhere from minor illnesses such as colds or the flu all the way to emergency conditions such as strokes or heart attacks.
Starting April 3, the emergency room will be open 24/7 and the urgent care office will be open from 7 a.m. to 9 p.m. seven days a week.
For more information, click or tap here.
Copyright 2023 WAVE. All rights reserved.