Behind the Forecast: Blowing over reasons why we're so windy
Listen to Science Behind the Forecast with Meteorologist Tawana Andrew every Friday on 89.3 WFPL at 7:45 a.m.
Published: Apr. 7, 2023 at 8:51 AM EDT
LOUISVILLE, Ky. (WAVE) - It's been abnormally windy few months. So, what causes wind, and why has it been so windy recently?
The wind is air in motion. When discussing the wind, meteorologists typically focus on the horizontal direction and speed of the air.
Once sustained winds reach 20 to 30 MPH, the National Weather Service classifies it as "windy."
Temperature disparities lead to high and low pressure. The sun heats our planet unevenly, hitting different areas at different angles for varying lengths of time, making some locations warmer or colder than others nearby. The differential heating leads to areas of high and low pressure. As warm air rises, it leaves an area of low pressure behind (since the air is leaving that location).
High-pressure and low-pressure systems are routine in our atmosphere. Air will move from high to low pressure. The wind speed will depend on the pressure difference between the high and low. Strong winds are likely near cold fronts, intense areas of low pressure (as the wind rushes into them), and within the jet stream. Narrow regions can funnel the wind and cause it to blow faster; this is common in mountain ranges and cities between buildings.
Wind gusts are short-lived increases in wind speed. Gusts occur due to the air's inability to move along the Earth's surface. Friction against the land, buildings, and varying elevation slows the wind in varying ways. Since the air closer to the ground is influenced by friction, more turbulent winds are seen here, and that's what we feel as gusts. The higher the average wind speed, the gustier the winds will be.
Since the weather has been so active lately (with quite a few weather systems tracking through the region), we've been dealing with a lot of wind. Spring and Fall tend to see more temperature differences and pressure changes, which means more wind and more intense wind.
A 2019 study found that wind speeds are increasing globally. Between 2010 and 2017, the global wind speed increased from around 7 MPH to 7.4 MPH. This study pointed to typical natural climate cycles as the cause.
The average sustained wind speed for March in Louisville is 9.72 MPH. March 2023 was actually near the average.
The average annual sustained wind speed in Louisville is 8.10 MPH. This year's (2023) average wind speed as of April 4, 2023, is 9.38. That puts it in the top 10 windiest years; we are currently ranked at number 5.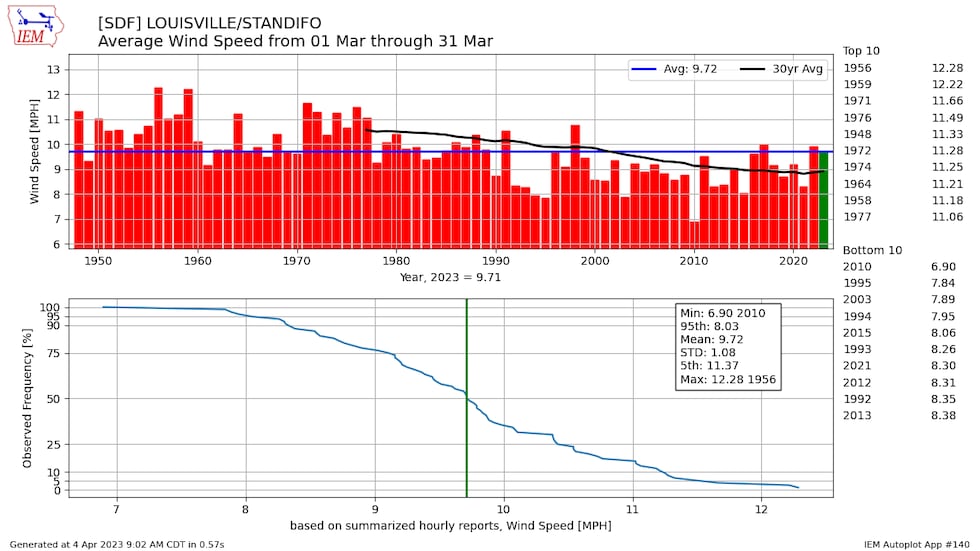 On March 3, 2023, Louisville saw the lowest atmospheric pressure on record (28.85″) with the storm that moved through; the old record was 28.93″ on February 28, 1902 (records go back to 1893). This led to several hours of wind gusts between 60 and 80 MPH. Louisville's second strongest was seen on that date - 79 MPH. We also saw 79 MPH gusts on April 5, 2023.
Strongest gusts ever in Louisville: 84 MPH; this occurred in 1971 and 1974.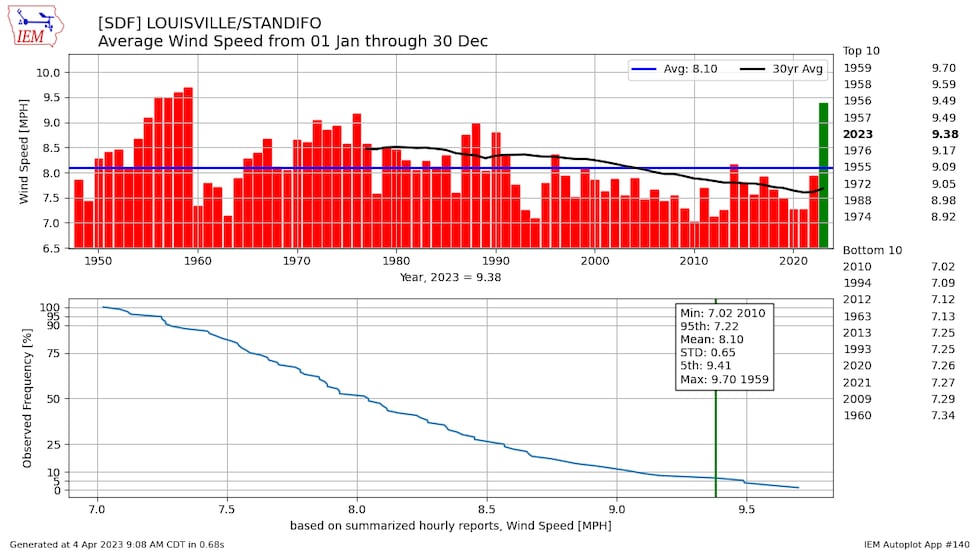 Copyright 2023 WAVE. All rights reserved.