5 killed, 8 injured from downtown Louisville shooting; suspect dead
Published: Apr. 10, 2023 at 9:01 AM EDT
|
Updated: Apr. 10, 2023 at 3:43 PM EDT
LOUISVILLE, Ky. (WAVE) - The Louisville Metro Police Department confirmed five people have died from an active shooting in downtown Louisville near Slugger Field on Monday morning.
LMPD and Louisville Metro Mayor Craig Greenberg advised everyone to avoid the 300 block of East Main Street, specifically at Old National Bank.
Calls came around 8:30 a.m. to the Old National Bank on reports of an active shooter in the area, according to MetroSafe dispatchers. The call was changed to an active aggressor report a short time later.
According to LMPD Deputy Chief Paul Humphrey, officers arrived on scene with Louisville Fire and EMS, where active gunshots were being fired.
Around 10:15 a.m., police said there is no longer an active aggressor threat and that "the suspected shooter has been neutralized."
Humphrey said officers exchanged gunfire with the suspect and the suspect died at the scene.
On Monday afternoon, LMPD confirmed the name of the suspect as 25-year-old Connor Sturgeon. Sturgeon was employed with Old National Bank, LMPD Interim Chief Jacquelyn Gwinn-Villaroel said.
(Story continues below)
The circumstances leading to the shooter's death have not been identified.
Sturgeon was confirmed as using a rifle during the incident on Monday and police confirmed he was livestreaming as the shooting occurred.
Police originally confirmed four people died, and University Hospital confirmed nine total patients were treated following Monday's shooting. Three of the injured victims have been confirmed as LMPD officers.
On Monday night, LMPD confirmed a fifth victim had died.
The names of the five people who were killed are Tommy Elliott, 63; Jim Tutt, 64; Josh Barrick, 40; Juliana Farmer, 45 and Deana Eckert, 57.
In Monday afternoon's update, Gwinn-Villaroel said three victims are in critical condition, three in non-serious condition and three victims have been discharged from the hospital.
Of those patients, UofL Health said five of the eight patients are being treated for gunshot wounds.
Villaroel said the two officers who exchanged gunfire with the suspect were both injured. One was grazed to the left side while the other had minor injuries to the elbow.
Officer Nickolas Wilt, 26, is listed in critical condition and just graduated from the LMPD Police Academy on March 31.
(Story continues below)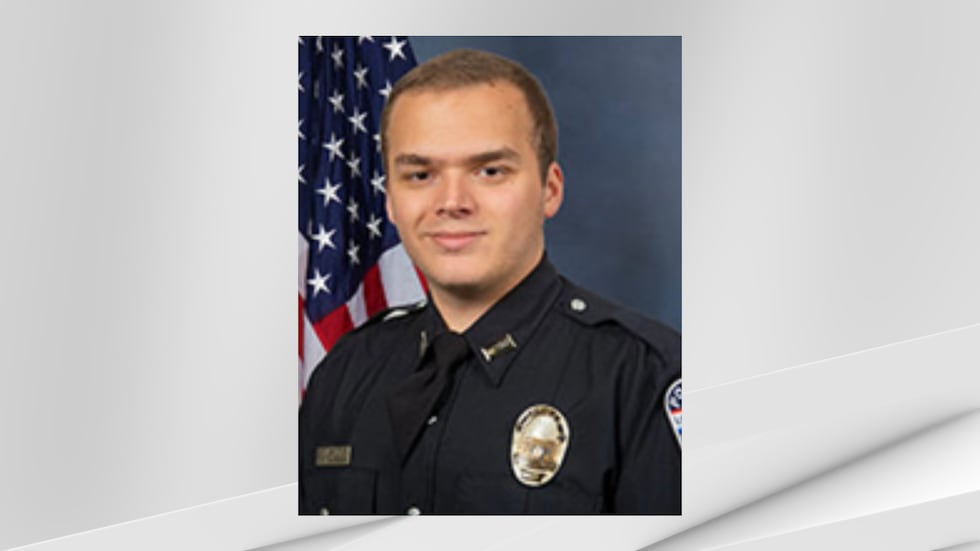 Wilt was struck in the head during the incident and recently came out of brain surgery. He is listed in critical, yet stable condition, according to Gwinn-Villaroel.
(Story continues below)
"I've been down there with the family and given my love and support," Gwinn-Villaroel said. "I've been with all the families today to show our love and support for them. If there's anything else they need from LMPD, we would be happy to provide that."
(Story continues below)
Kentucky governor Andy Beshear provided an update in Louisville following the shooting, saying one of his close friends died in the shooting and two other friends are within the hospital.
"When we talk about praying, I hope people will," Beshear said. "For those that we are hoping can make it through the surgeries that they are going through and we got to do what we have done these last three years after everything, we got to wrap our arms around these families. And everybody who needs it, don't be afraid to get some help."
(Story continues below)
Louisville Metro police officers and FBI Louisville special agents are investigating at the scene and would be there throughout the day.
Rep. Morgan McGarvey shared his thoughts on the shooting.
(Story continues below)
Old National Bank provided a statement on the shooting and said the CEO, Jim Ryan, was en route to Louisville.
"The safety of Old National Bank employees and everyone we serve in our banking center locations is paramount," Ryan said in the statement. "As we await more details, we are deploying employee assistance support and keeping everyone affected by this tragedy in our thoughts and prayers."
President Joe Biden said "our nation mourns after a senseless act of gun violence," and mentioned inaction about stricter gun laws in a tweet.
(Story continues below)
Sen. Mitch McConnell thanked LMPD and first responders for their bravery and sent prayers to the victims and their families.
(Story continues below)
Louisville Archbishop Shelton J. Fabre also released a statement following the shooting.
"My heart is heavy as we learn about another mass shooting, now in our own Louisville community," Fabre said. "Even with our Easter hope so recently renewed, we have been quickly reminded that we still live in the shadow of the cross, the cross of senseless violence. For now, please join with me in praying for those who have died and for those who have been injured and for their families. Let us also pray for all in our community as we deal with this tragedy."
Louisville mayor Craig Greenberg said the city would be setting up a family assistance center at the Kentucky International Convention Center for anyone involved in Monday's shooting.
On Monday afternoon, officials began dropping off supplies for victims and their families.
(Story continues below)
A second, unrelated shooting happened hours later outside of a JCTC campus building at 8th and Chestnut Street. One person died and another was injured in that shooting.
LMPD said the shooting occurred outside and that the suspect had left by the time officers arrived. JCTC closed campuses for the day in response to the shooting.
This is a developing story.
Copyright 2023 WAVE. All rights reserved.