Food Truck Wednesdays returns to downtown Louisville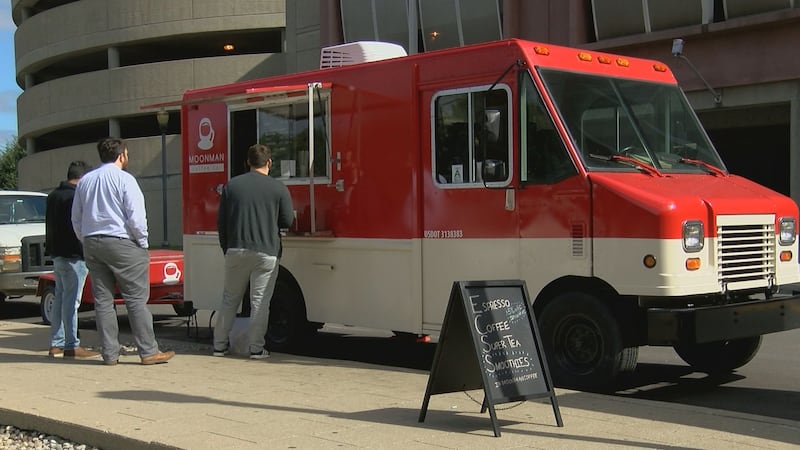 Published: Apr. 19, 2023 at 2:14 PM EDT
|
Updated: Apr. 26, 2023 at 12:02 PM EDT
LOUISVILLE, Ky. (WAVE) - Downtown Louisville will soon get a lot tastier with the return of Food Truck Wednesdays.
Food Truck Wednesdays returns to the 200 block of South 4th Street, between Jefferson and Market Streets, beginning April 26 from 11 a.m. to 2 p.m., according to a release.
Each week, the road will be shut down to vehicles allowing multiple food trucks to set up and for guests downtown to grab a bite to eat.
"The Food Truck Wednesdays event exceeded our expectations last year and we're thrilled to be bringing back the series to serve our Downtown community," Rebecca Fleischaker, executive director of Louisville Downtown Partnership said in a release. "This series offers a fun twist on traditional dining in the heart of our city and encourages people to get out and be together."
The series will run through October and will also feature musicians and chalk artists. Hines Management will also be providing picnic tables for each event.
Nearly 20 vendors are scheduled to participate so far, including Good Belly, Sweet & Juicy, Philly's Best, Weekend Burger, Annie Up Pizza Cones, Celtic Pig, Tikiz, Chic la Lou, Flavaville, Lil Cheezers, Bamba Eggrolls, Al Prince Mediterranean, Made in Brazil, Sweet & Savory, Smokin' Cantina, and Boo Boo Smoke Shack.
Kathy Aphaivongs-Harrod, owner of All Thai'd Up food truck and restaurant, will coordinate the vendors for the rotating event, with four to six vendors included each week.
Food trucks that would like to sign up for Food Truck Wednesdays can contact Aphaivongs-Harrod to participate.
Copyright 2023 WAVE. All rights reserved.