Metro United Way highlights individuals during Community Impact Awards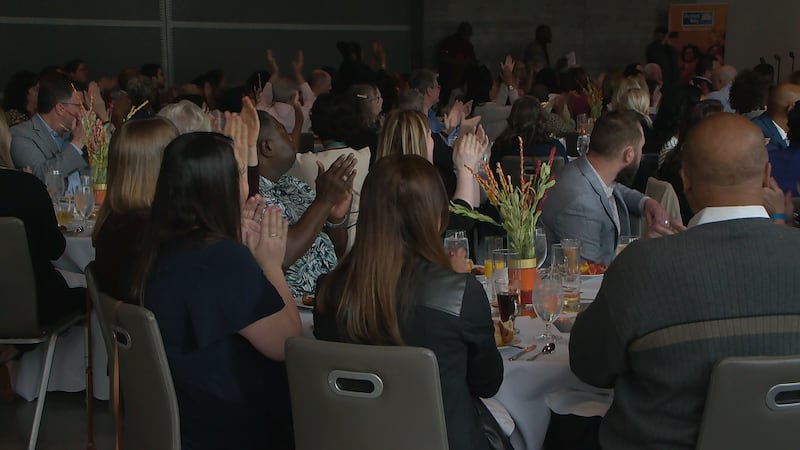 Published: Apr. 19, 2023 at 2:00 PM EDT
LOUISVILLE, Ky. (WAVE) - Metro United Way hosted its fourth annual Community Impact Awards on Wednesday, recognizing extraordinary individuals and organizations creating positive change within Louisville.
The awards ceremony was celebrated for the first time in person at the Speed Art Museum, giving the organization a chance to thank awards recipients for their efforts.
One of the awards, the "Sullivan Service Award," is named after Mary Sullivan. Sullivan served at Metro United Way for 42 years.
She presented the award to this year's recipient, Barry Barker, who has been an active volunteer at Metro United Way for more than 25 years.
"Listen, what we do as a community is fantastic, and what you all do lends to that quality of life," Barker said. "And if you should ever doubt it, if you should ever ever have a moment, give me a call. I'll buy you whatever you're drinking that week. Thank you."
The complete list of honorees from this year's Community Impact Awards are listed below:
Community Cornerstone Award: Republic Bank (previous winners: Brown-Forman, GE Appliances)
Changing the Narrative Award: Alisia McClain/TECH-nique (previous winners: Yum! Brands, Ali Center, Dave Christopher/AMPED)
Game Changer Award: Josh Kornberg (previous winners: Louisville Urban League, Tom McGinnis, Community Foundation of Southern Indiana)
LIVE UNITED Award: Ashley Butler (previous winners: Audwin Helton, Elaine Gravatte, Dr. Karen Cost and Dr. JR Curtin)
Sullivan Service Award: Barry Barker
Metro United Way also presented a special award to Christeen Wremeo for the first King Elaine's Nobility Scholarship Fund.
An award was also presented to honor KJ Rhodes, the late son of Metro United Way president and CEO Adria Johnson.
For more information on Metro United Way, click or tap here.
Copyright 2023 WAVE. All rights reserved.