Duck Donuts raises funds for Make-A-Wish with new Wish Donut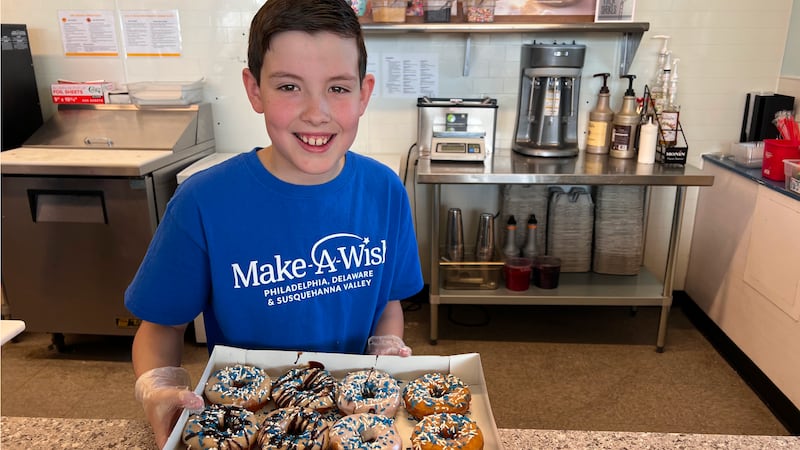 Published: Apr. 25, 2023 at 9:55 AM EDT
LOUISVILLE, Ky. (WAVE) - Treat yourself to a donut and help a good cause as Duck Donuts begins its inaugural Make-A-Wish donation campaign.
Guests can visit any Duck Donuts store, including the Louisville store at 4600 Shelbyville Road, and purchase the new special edition Wish Donut as part of the store's Quack Gives Back partnership from now through June 18, according to a release.
The Wish Donut is a donut topped in chocolate or vanilla icing and topped with Make-A-Wish inspired blue and white sprinkles.
Duck Donuts said it would donate 50 cents to the Make-A-Wish organization for each Wish Donut purchased and would allow guests to also make donations in their online orders or by rounding up their total.
"Duck Donuts is delighted and honored to introduce nationally recognized Make-A-Wish as its new national Quack Gives Back partner," Betsy Hamm, CEO of Duck Donuts said in a release. "This campaign and partnership allows us to rally system-wide and engage the local communities we serve as we work to raise funds to create life-changing wishes for children with critical illnesses."
Make-A-Wish was founded back in 1980 and has since granted more than 550,000 wishes globally for children with critical illnesses.
For more information, visit Duck Donuts' website.
Copyright 2023 WAVE. All rights reserved.