Belle of Louisville wins 2023 Great Steamboat Race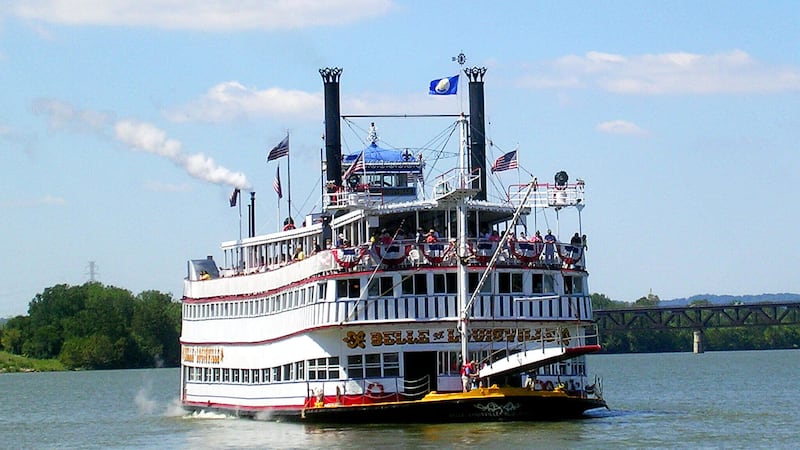 Published: May. 1, 2023 at 4:07 PM EDT
|
Updated: May. 3, 2023 at 9:15 PM EDT
LOUISVILLE, Ky. (WAVE) - The big race on the Ohio River was back again on Wednesday as the Great Steamboat Race returned.
Three vessels faced off in the 60th annual race; the Belle of Louisville, the Belle of Cincinnati and the American Countess to win the coveted Silver Antlers.
There was a bit of controversy surrounding last year's race, as former Mayor Greg Fischer declared the Belle of Louisville as the winner despite appearing to come in third place. The technicality was awarded as the Belle was deemed "the only authentic steamboat to cross the finish line."
Kentucky Derby Festival officials said they were excited the long-running tradition is set to continue.
"We're just a couple of days away from our favorite race on the Ohio River," Matt Gibson, Kentucky Derby Festival President and CEO said in a release. "The Great Steamboat Race is one of the oldest traditions on the Derby Festival schedule. Best of luck to all the boats and may the best boat win!"
The race's new title sponsor was announced as Shepherd Insurance.
"We value our partnership with the Kentucky Derby Festival, and this year will be the first year we've been part of the Great Steamboat Race," Trent Hunt, Executive Partner and COO Kentuckiana Region for Shepherd Insurance said. "We've sponsored other events over the years and wanted to mix it up a little bit this year."
In addition, KDF officials announced the official cocktail of the Great Steamboat Race on Monday which will be prepared by Louisville's Brough Brothers Distillery.
The new cocktail, titled the "6-0," commemorates the 60th run of the Great Steamboat Race.
"We're excited to be back," Victor Yarbrough, CEO of Brough Brothers Distillery said in a release. "It's a fantastic drink that we think the guests will enjoy this year."
Boarding for the Great Steamboat Race took place from 4:30 p.m. to 5:30 p.m. and all boats departed at 5:45 p.m. for a 6 p.m. race.
The awards ceremony took place on the Chow Wagon Stage at Kroger Fest-A-Ville on the Waterfront.
This year, the Belle of Louisville won the Great Steamboat Race and took home the coveted Silver Antlers.
Copyright 2023 WAVE. All rights reserved.