Former Louisville point guard Russ Smith joins alumni team in The Basketball Tournament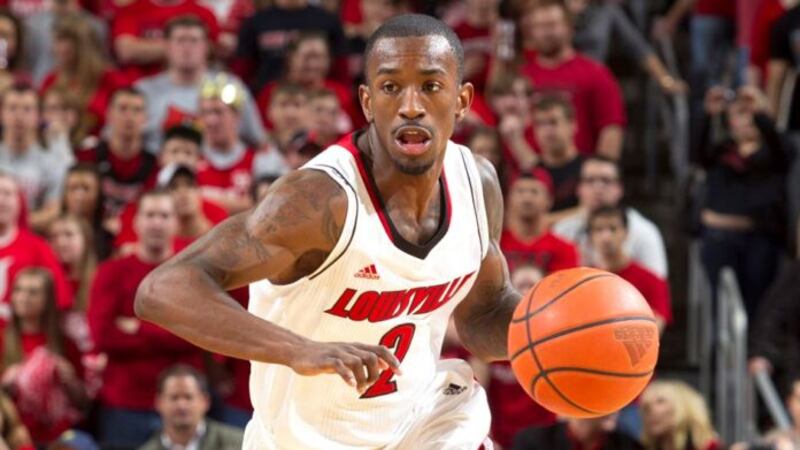 Published: May. 9, 2023 at 11:03 AM EDT
LOUISVILLE, Ky. (WAVE) - Another former University of Louisville basketball player is joining a star-studded team within The Basketball Tournament, a winner-take-all event playing in Louisville this summer.
Louisville point guard Russ Smith is joining the roster of The Ville, which also includes former players such as Peyton Siva, Wayne Blackshear and Dillon Avare, playing in the 64-team tournament this July, according to a release.
The Ville will be a host team for the Louisville Regional, which will be played in Freedom Hall from July 25 through July 31.
"I can't wait to get out there and play with the guys I hooped with [at Louisville]," Smith said in an interview with Inside TBT. "As a person who had success in the city of Louisville and the state of Kentucky, I'm looking forward to interacting with a lot of the fans that are going to come and show up."
Smith played with UofL from 2010 to 2014 and has multiple awards to his name, including First-team All Big East in 2013, 2013 NCAA Midwest Regional Most Outstanding Player and 2014 AAC Tournament MVP.
He is also Louisville's all-time steals leader and is second and fourth in most points scored in a single season.
Smith's #2 jersey was retired by Louisville in 2022.
The Basketball Tournament will be announcing its semifinals and championship game location in the upcoming weeks.
Tickets are now on sale for the Louisville Regional and quarterfinal games, and can be purchased here.
For more information on The Basketball Tournament, click or tap here.
Copyright 2023 WAVE. All rights reserved.