Kentucky Dinosaur World celebrates 20th anniversary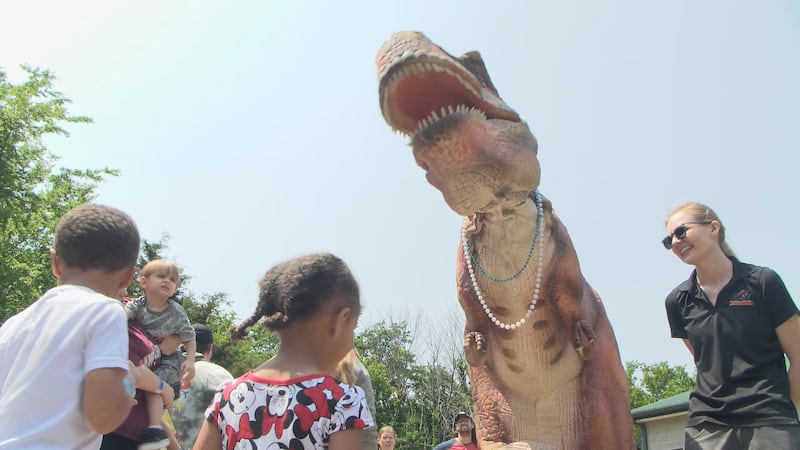 Published: May. 22, 2023 at 12:56 AM EDT
BOWLING GREEN, Ky. (WBKO) - Everybody was certainly walking the dinosaur in Cave City Sunday, as the Kentucky Dinosaur World celebrated bringing 20 years of fossilized fun to the state.
Attendees could pet Gene, the park's "living" T-Rex, get their face painted or a balloon animal, and visit a paleontologist station to learn more about dinosaurs and fossils.
All done in the spirit of celebrating the park's combination of education and fun.
"I feel like [my kids] definitely learn something new every time that they come," said anniversary attendee Alex May. "It is a really fun way to get out in nature, become more educated, and just have a good time.
While attendees said they love the park now, they can't wait to see what the next 20 years may bring.
"They should probably add a waterpark," said attendee Evelyn Massey. "The dinosaur spitting out water, a splash pad."
"I think if we got more interactive exhibits, like animatronic ones, that would be really cool to see. I know the kids really love those," May said. "But I think it's great as it is now."
Though getting to interact with dinosaurs everyday may be fun, Park Director Chris Randall said seeing guests smile has been his favorite thing at Dinosaur World.
"Everybody that comes gets to be a kid again," Randall said. "You just get to see those expressions, the happiness. That's the biggest payout of all."
For a final surprise, the park also used the anniversary to unveil its new "Jurassic Mini Golf Course."
For more information on the park, visit their website.
Copyright 2023 WBKO. All rights reserved.