KHRC releases 5th necropsy report for horse that died at Churchill Downs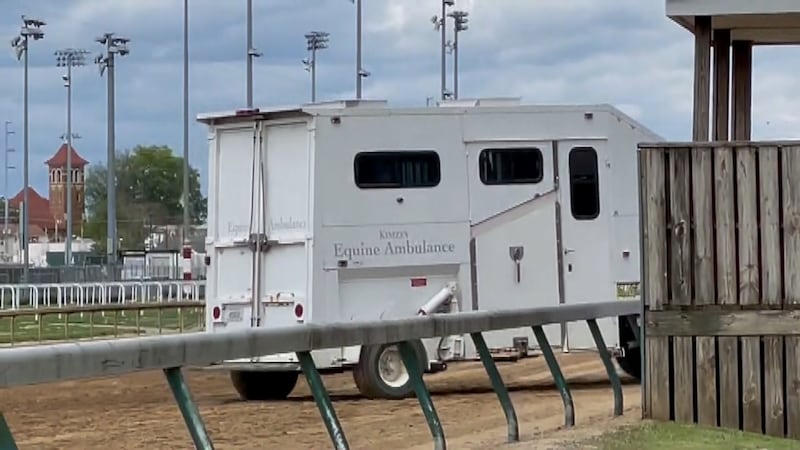 Published: Jun. 16, 2023 at 11:16 AM EDT
LOUISVILLE, Ky. (WAVE) - More information has been released for one of the horses that died at Churchill Downs during this year's Spring Meet.
Bosque Redondo, trained by Alexis Claire, died days after an Allowance race on May 13 according to a report from the Kentucky Horse Racing Commission.
The horse raced towards the back of the field and finished in tenth place. After finishing the race, the report states after pulling the horse up and riding off the turf course, the jockey dismounted from the horse.
KHRC veterinarians and the horse ambulance were called for assistance, and after being evaluated, Bosque Redondo was taken to a clinic in Shelbyville.
Radiographs taken revealed a fracture in the horse's left forelimb, and after further evaluation, the horse was given a poor prognosis and euthanized on May 15.
KHRC reports said Bosque Redondo was deemed sound in pre-race exams with no abnormalities detected.
The trainer did not give a comment on the condition of the turf course, while the jockey, Jared Loveberry, said the turf course was "in good shape."
Four other necropsy reports for the 12 horses that died at Churchill Downs have been released. Reports for Parent's Pride, Take Charge Briana and Freezing Point were released on Jun. 5, while the report for Chloe's Dream was released on Jun. 9.
KHRC's new report comes soon days after the organization announced it would be adding a safety steward position to oversee safety procedures at racetracks.
Out of precaution, Churchill Downs made the decision to move the remainder of its Spring Meet to Ellis Park. Investigation into the racetrack have not found a pattern linking the horse's deaths due to possible racetrack conditions.
Copyright 2023 WAVE. All rights reserved.