Morehead State's Jackson Feltner selected in 8th round of MLB Draft
The Lawrence County product chosen by the Arizona Diamondbacks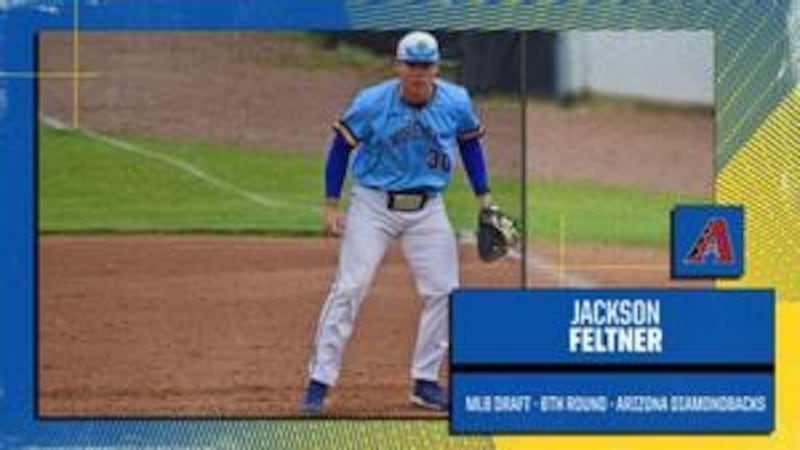 Published: Jul. 10, 2023 at 7:17 PM EDT
MOREHEAD, Ky. - With the 11th pick in the eighth round of the 2023 MLB Draft, the Arizona Diamondbacks selected Morehead State baseball's Jackson Feltner, marking the first Eagle drafted since 2019 (Alex Garbrick & Dalton Stambaugh).
Feltner, the Eagles' mainstay at first base for the past three seasons, was the 235th overall pick in the draft. Feltner is the 35th player in program history to be drafted, with the first coming in 1965.
He is the third-ever Eagle to be selected by the Diamondbacks, joining Tyler Keele (2016) and Brad Allison (1996). Feltner's eighth round selection is the highest Eagle taken since Aaron Leasher in the sixth round by the Sa Diego Padres in 2017.
It also marks the second highest Eagle draft pick since 1999 when pitcher Jon Rauch went in the third round to the Chicago White Sox.
The Louisa, Ky., native has had quite the career in a Morehead State uniform, racking up three First Team All-OVC honors at first base, and took home the program's first ever OVC Freshman of the Year award in 2021.
In 154 career games, Feltner has slashed .376/.471/.672, while hitting 41 HR with 141 RBI. This past season, Feltner led both the team and OVC in walks with 49, ranking in a tie for 37th in all of Division I.
Feltner's .376 career batting average ranks tied for fourth in program history with former Eagle Ken Nooe (1975-76), while his on-base percentage (.471) ranks second.
His 41 home runs ranks in a tie for fifth in program history, and 87 extra-base hits puts him in seventh on the all-time list.
Copyright 2023 WKYT. All rights reserved.